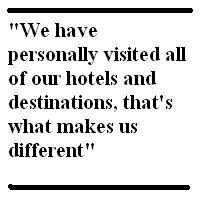 Our emphasis is on not only providing you with sensational and luxurious resorts but on providing a personalised and attentive service
UK (PRWEB) October 16, 2008
Travellers who are seeking the world's most exclusive destinations can find them with the help of luxury travel agent Only Exclusive Travel.
Featuring dozens of once in a life time experiences, Only Exclusive Travel provides expert recommendations, advice and inspiration for sophisticated travellers. Their website features detailed information on all destinations, with special offers, articles, reviews, beautiful images, and a travel blog. Our website informs travellers with exactly what they need to choose their next destination.
Only Exclusive Travel has one of the best websites available currently available and brings the worlds best travel destinations into one comprehensive resource.
All of the hotels and resorts featured on their website are specially selected and are only included if they meet their demanding and exacting criteria. Only Exclusive Travel also operates an extensive luxury worldwide golf programme, featuring some of the finest and most spectacularly located courses in the world.
"Our emphasis is on not only providing you with sensational and luxurious resorts but on providing a personalised and attentive service," says Only Exclusive Travels Adam Abadi. "We pride ourselves on our detailed knowledge of the resorts -- the staff at Only Exclusive Travel have personally visited, inspected and stayed at all the hotels within their specialised area. That's what makes us different to other agents."
Visitors to their website can get up-to-the-minute announcements of special offers from the world's best hotels and destinations. Subscribers can receive notification of their exclusive full list of discounted offers to some of the world's most exciting hotels.
# # #