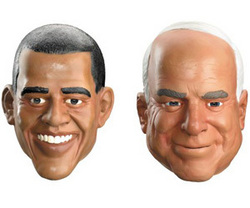 The 2008 Election year is by far the most popular for political Halloween mask orders
Ronkonkoma, NY (PRWEB) October 16, 2008
With 15 Halloween costume shopping days left, and only 19 days until Election Day, interest is climbing in both Barack Obama masks and John McCain masks. Demand for political masks this year has been especially high, according to Meredith Abraham, co-owner at Anytime Costumes.
"The 2008 Election year is by far the most popular for political Halloween mask orders," explains Abraham. "Political mask sales for 2008 represent 35% of our overall mask orders, compared to 12% in 2004 and 9% in 2000," said Abraham.
McCain or Obama -- Which is selling best?
For Anytime Costumes, McCain is leading the sales of political masks this year, representing 31.7% of the political mask orders with Obama trailing closely at 30.3%. The costume industry also seems to have experienced a similar shake-up and spotlight that the political world did with the announcement of Sarah Palin's surprise appearance on the Republican ticket.
"What's even more interesting is the amount of requests for the Sarah Palin Halloween Mask, set to arrive next week," says Abraham. "We have had thousands of customers interested in the Palin Mask this month and hundreds waiting for the Palin Mask arrival early next week for order. Although McCain and Obama lead the pack in terms of mask orders, Sarah Palin could possibly take the lead once the masks are in-stock!"
Ranked by number of mask orders, Anytime Costumes released the top-performing political masks for 2008:
31.7% John McCain Mask
30.3% Barack Obama Mask
13.3% George W. Bush Mask
9.3% Hillary Clinton Mask
6% Bill Clinton Mask
4.3% Richard Nixon Mask
2.7% Arnold Schwarzenegger Mask
2.3% Al Gore Mask
About Anytime Costumes
With a brick-and-mortar presence since 1954 and an online presence since 1997, Anytime Costumes is a leading retailer of online Halloween costumes. Based in Ronkonkoma, New York, Anytime Costumes ships costumes to over 200 countries worldwide servicing over 1,000,000 customers. Offering the latest 2008 Halloween costumes for adults and kids, Anytime Costumes strives to offer the best quality costumes available to consumers online.
# # #