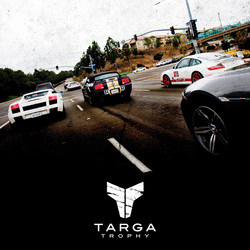 San Diego, CA (PRWEB) October 16, 2008
Targa Trophy, an unprecedented road rally featuring exceptional luxury automotive vehicles, cutting edge event venues and a diverse demographic of social tastemakers, automotive enthusiasts and luxury brands rolls into Los Angeles on Saturday October 25, 2008 for its second annual Southern California appearance. Produced by Overell, Inc., the event was conceived to honor the world's most prestigious road rallies and is distinguished by its emphasis on connoiseurship, excellence and luxury. For this installment, the Targa Trophy is comprised of a one-day driving extravaganza from Los Angeles to Santa Barbara and back, combining the experience of driving some of Southern California's most challenging roads and the opportunity to showcase the world's most well-appointed, road rally worthy automobiles.
Event festivities will commence at the renowned Fred Segal store on Melrose, a high-end lifestyle shopping experience known for its trend setting merchandise and A-list clientele. Outside of the boutique, exotic cars and an impressive array of luxury lifestyle and premier auto-industry companies will be on display for public view as drivers and their entourage prepare for the rally's 9 a.m. shotgun start. Amongst the brands that have joined forces for the rally are: Symbolic International, a world leader of dealers specializing in vintage and historic sports and competition vehicles; Global Motorsports Group (GMG), the West Coast's top performance tuner for Porsche, Ferrari, Audi, Lamborghini and BMW; Sparco, the world leader in racing safety equipment and performance after market parts for sports cars, and Quintessentially, a worldwide luxury concierge for unique individuals and businesses.
Once the shotgun sounds, over 100 supercars will wind northward on a pre-determined and formidable road course towards their midway destination: the sprawling, beachfront Bacara Resort & Spa in Santa Barbara. This three-hour stop allows ralliers optimal time to enjoy the lavish grounds and hotel amenities before embarking on the final leg of the rally back to Los Angeles.
Drivers will finish in style as they cruise back into Los Angeles, ending at West Hollywood's posh Mondrian hotel. Rally participants and guests will be wined and dined poolside at the Sky Bar for an intimate after-party complete with summer-inspired fare and cocktails. Here, the motorist who beats a previously determined, undisclosed time will be announced and awarded with a one-of-a-kind diamond ring from the LUZ Collection created by Houmon of Coronado, CA. The ring's four-sided, ergonomic design, as with all of Houmon's jewelry, was guided by passion and emotions. The magnificent LUZ Collection has accessorized recent Fashion Weeks and is donned by celebrities such as Kid Rock.
For more information on or to register for the Targa Trophy Road Rally, please visit Targa Trophy.
About Overell, Inc.
Building upon over a decade of industry knowledge, Overell Inc. has established itself as a leader in the nightlife marketing and lifestyle event planning industry. Nightlife visionary Jason Overell founded the company in 2002 and has since established a steady following of thousands of top tier, influential businesspeople and tastemakers who he regularly packs into Southern California's finest venues. Beyond the masses, it's Overell Inc.'s relationships with the foremost luxury brands and imagemakers -- such as Revlon, Lamborghini, Moet Chandon and W Hotels -- and creativity in identifying underserved, niche markets and an array of services including image branding, lifestyle marketing and event conceptualization, planning and implementation that keeps the client roster full. Overell, Inc.'s newest venture, the Targa Trophy, a one-day road rally that debuted in San Diego in late 2007, will make its first appearance in Los Angeles and Santa Barbara in October 2008. For more information on Overell Inc., visit http://www.overellinc.com .
# # #