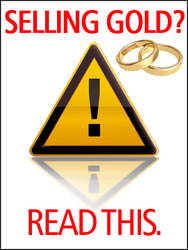 never even sent the package in.
Washington, D.C. (Vocus) October 16, 2008
Cash for Gold USA launched new sites Cash-Gold.info and TruthAboutGold.com today to help Internet users Find a Reliable Online Gold-Buyer & Avoid Being Scammed.
Selling gold (and other precious metals) online seems easier than ever recently – many companies are advertising on TV & radio, the Internet, and in print – and they're all claiming to offer the 'Highest Prices' for your gold. But they can't all be offering the highest price, right? Here are two true stories of people who were taken in by companies using deceptive marketing techniques (more information can be found at http://truthaboutgold.com/).
Gary S. (Sedona, AZ) sent his gold to one of the top online buyers and received a lot less than he expected. "For a 14K gold bracelet that I was offered $75, $85, and $90 for on Craigslist I received a whopping $4.73!" Another consumer, David R. (Miami, FL), sent his jewelry to the same leading online gold buyer, waited two weeks and received nothing. When David called the company to speak with a representative about his late payment they called him "a liar" -- claiming he "never even sent the package in."
Unfortunately, these stories are fairly common when dealing with certain high-profile buyers explains Norm Schneider, President of Cash For Gold USA. "In today's competitive gold-buying market a number of websites boast false information and employ deceptive marketing techniques to gain consumer confidence." TruthAboutGold.com and Cash-Gold.info (http://cash-gold.info/) help educate sellers so they can make smarter, well-informed decisions about who to sell their gold to before it's too late. Schneider believes that if people are willing to do a little research they can prevent themselves from falling victim to one of these fraudulent online gold-buying schemes.
With the price of gold at an all-time high, Americans everywhere are seeking relief from the slowing economy by exchanging their old, broken or unwanted gold jewelry for cash. Although almost all of the companies claim to offer "Highest Prices Paid," Cash for Gold USA stands behind their offer. "We know how our prices compare with our competitors' because we've actually put them to the test," Schneider explains, "however, the average consumer would not be privy to that kind of information unless he or she did their share of research." Cash for Gold USA's (http://cashforgoldusa.com/?cid=35) new sites will provide such information for free.
Here is an example of some of the useful information freely available to gold sellers exclusively on TruthAboutGold.com & Cash-Gold.info:
Consumers should check out the buyer carefully before sending gold items through the mail. A good starting point is the Better Business Bureau. They will disclose any complaints received about your prospective buyer. If there are a lot of complaints, it's probably smart to look elsewhere until you find a reliable, trustworthy buyer.
You can also search for information about any company on Google or Yahoo! Just type the company's name in the search bar along with the word "complaint" or "scam" and see what comes up. Or visit some of the sites listed below to see if consumers have logged any grievances about your prospective company:
CompalaintsBoard.com
ConsumerAffaris.com
Also, make sure the site agrees to insure your items in case they get lost or damaged. And read the Terms & Conditions. Don't be seduced by mere claims of safety and security. Read the fine print!
Cash for Gold USA: Honest, Trusted, Millions of Dollars Paid.
Cash for Gold USA is a safe, reliable site for sellers looking to turn their broken and unwanted gold jewelry into cash - without long delays or slow payments. Cash for Gold USA (AS SEEN ON TV) is endorsed by the Better Business Bureau, Truste, JVC, and MJSA. Their "Pay-More-Faster" philosophy is one reason the company is so successful.
With over 50 years of cumulative precious metals experience in assaying, refining, buying and selling, Cash for Gold USA is a trusted, honest & reliable name you can count on. They are wholeheartedly commitment to customer satisfaction.
Contact:
Henry Miller
Media Relations
Cash For Gold USA
CJ Environmental, Inc.
http://cjenvironmental.com
http://cashforsilverusa.com/
Toll Free 1-866-784-2238
# # #