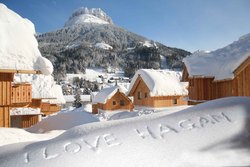 When (and if) people tire of skiing, they can always enjoy tobogganing, curling, off piste tours, ice climbing, ice skating and horse drawn sleigh rides.
London, UK (PRWEB) October 17, 2008
The headlines could have people believing that no-one has any money - not so. The fact is, people are still looking for investment opportunities, albeit safer ones. "One option is to invest in something you enjoy, and with the ski season about to start, investing in hot ski property in Austria is a good place to look," says Jonathan Jennings, UK Director of AlpenParks. "The snowfall is expected from November through to Easter and the Austrian economy is robust. There's nowhere better to visit than where the Austrians themselves go on holiday."
The popular Ausseerland region east of Salzburg is a hidden gem, and it's where the new Hagan Lodge ski resort from AlpenParks is located. Around 60% of visitors to the region are Austrian, with most others being either Dutch or German. Russian and Croatian visitors are quickly getting to know about the resort too, giving it a completely cosmopolitan feel, yet it's still largely undiscovered by the British market.
AlpenParks is Austria's largest ski resort developer and Hagan Lodge is its first resort available to UK residents, offering the chance to buy into exceptional holidays and a secure return on investment of between 5.9% and 6.2% pa. Hagan Lodge is built right on the slopes of the Loser Mountain, only 98km east of Salzburg. The region was recently voted the third best ski area in Austria by journal "NEWS", and better still, at Hagan Lodge people can ski right to their chalet's front door. http://www.hagan-lodge.co.uk
Hagan Lodge is only 2½ miles from the nearby village of Altaussee and is an ideal lifestyle investment for passionate skiers seeking family-friendly holidays. The Loser area has around 29 km of pristine, well managed pistes - offering wide, non-congested and stress free skiing. For the more experienced skier there are a host of challenges, downhill descents and a network of cross country trails to work up an appetite. There's even a new fun park for freestyle boarders.
"Hagan Lodge has its own children's ski school with English speaking instructors so people can hit the slopes knowing their kids are learning in a safe environment," says Jonathan. "When (and if) people tire of skiing, they can always enjoy tobogganing, curling, off piste tours, ice climbing, ice skating and horse drawn sleigh rides."
It's not just in winter that the resort shines; in summer there is an abundance of activities in the nearby regions of Altaussee, Bad Aussee and Styria in the region of Salzkammergut, all set among a backdrop of lush meadows and crystal clear lakes. Within 15 minutes of Hagan Lodge people can try their hand at paragliding, hang gliding, swimming, hiking, fishing, mountain biking, tennis, boating and alpine walking. For a more relaxing day, they can indulge in a spa treatment, moonlight hike or good cup of local coffee in a cosy mountain café. There are also a number of musical and cultural festivals throughout the year, and day trips to the salt mines, literature and folk museums, provide a touch of culture.
Evenings at the resort are quietly sophisticated. There are seven bars or restaurants to choose from on the slopes adjacent to Hagan Lodge which are floodlit at night to emphasise their beauty.
"A chalet at Hagan Lodge is more than just a holiday home; it's a secure investment offering between 5.9 and 6.2% return each year, all managed for you by AlpenParks," says Jonathan. "On average, and after all maintenance costs, rental commission and taxes have been deducted, owners can expect to make approximately 18,000 euros each year in rental income - even accounting for the owner using their chalet for two weeks in peak season."
Chalets start at €365,000 and include the latest luxury fittings and all the costs are included in the purchase price. The chalets can sleep up to nine and come fully furnished each with its own Swedish sauna and private balcony. And of course the walls, floors and ceilings are all heated to ensure maximum comfort.
"If you're going to invest in property, it may as well be in one of the world's most stable economies, especially in the current climate," says Jonathan. Austria is the 3rd wealthiest nation in the EU and there is no 'sub-prime' mortgage market as banks only offer mortgages of 60% loan to value. Property values have steadily increased between 5% and 10% per annum in recent years, and to encourage long-term investment in Austria, the capital gains tax of 50% is waived after ten years. There is also no inheritance tax.
"The first phase of Hagan Lodge is already fully booked throughout December, January and February so it's clearly proving popular with skiers - although new owners can use their chalet during this period with short notice," concludes Jonathan.
Visit http://www.hagan-lodge.co.uk or http://www.alpenparks.co.uk
About AlpenParks
AlpenParks was established in 2001 and is the largest ski resort developer in Austria. The company is the only developer in Austria that not only builds ski resorts but also continues to own and manage them on behalf of the properties' owners. The company's rentals agency retains 20% of rental income as commission and works with all of the largest tour operators to achieve excellent lettings over peak ski and summer periods. If owners wish to rent their property privately they pay a reduced commission of 10% for maintenance purposes.
Mortgages of 60% loan to value can be arranged through AlpenParks.
###