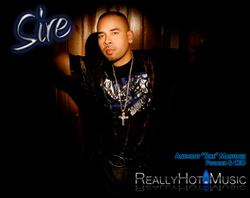 I Can Treat You Better!
New York (Vocus) October 16, 2008
With R&B newcomer Cleph the Cosigner now signed to Really Hot Music, Sire has put out the first "ladies love it" smash hit "I Can Treat You Better!"
"I was reading a recent article where P. Diddy was talking about why he created Bad Boy. He said he wanted to give music that Harlem sound and related back to the Roof Top days. There were so many hot sounds coming out around that time that lead up to the whole Dru Hill/Sisqo era that just took R&B to the next level. When I heard Cleph's voice he immediately took me back to that time zone and I started to think damn…whatever happened to that Dru Hill sound that we all loved because there's no one really out right now with that sound" says Sire.
Cleph the Cosigner whose real name is Muhammad Rashid was raised in Fort Greene Brooklyn for most of his life. "Living in Brooklyn was no walk in the park. I needed to turn to something that Fort Greene wasn't offering at the time. My savior from the streets was music. Day after day I listened to my favorite artist on the radio. At the time I was very unknowledgeable about the great gift I had and insisted on sounding like or mimicking the artists on the radio. After a while I realized that I had a gift and with much practice I revealed to myself and others that I can sing. When I began singing, DRU HILL was my biggest inspiration that I admired most. Their popular song "WERE NOT MAKING LOVE" quickly persuaded me that this is the dream I wanted to chase" says Cleph.
Sire related and quickly turned to underground smash hit producers "The Composers" G-Nius & DJ Codeman out of Ft. Lauderdale Florida to produce a hot track. He then turned to Will "Sounskeezy" Villalona of One Mind Production for the engineering, mixing and vocal production at Sound Lab Recording Studio's out in Patterson New Jersey. The outcome…HOTNESS!!! "I think the music industry slept on Cleph but he's with Really Hot Music now and "I Can Treat You Better" show's how talented he really is.
"I Can Treat You Better" will be available on I-Tunes, Amazon, Rhapsody and all other download sites after October 27, 2008 but can be heard at http://www.reallyhotmusic.com, http://www.myspace.com/reallyhotmusic and http://www.sonicbids.com/reallyhotmusic.
For all inquires and music single request please contact:
Tony Milian | Publicist
Really Hot Music, Inc.
8306 Mills Drive
Suite 441
Miami, FL 33183
(305) 433-8074
(305) 434-8692 fax
Email: [email protected]
Visit Us At:
http://www.reallyhotmusic.com
http://www.myspace.com/reallyhotmusic
###