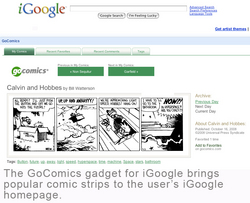 As a publisher on mobile phones and the desktop web we're constantly reinventing how we distribute comics
Kansas City, MO (PRWEB) October 16, 2008
UCLICK® Digital Entertainment, America's #1 online and mobile provider of comics and casual games launched the GoComics gadget for iGoogle, giving comics fans a convenient way to add their favorite comic strips to their iGoogle homepage. With a loyal following of tens of millions of users, iGoogle makes it easy to customize home pages with news, weather and other dynamic content including daily comics from the new Uclick gadget.
The GoComics gadget for iGoogle revolutionizes how comics are enjoyed and shared by giving iGoogle users instant access to the current-day's comics including many that may not be available in a user's local newspaper. Among the dozens of comics featured are out-of-print favorites "Calvin and Hobbes" and "Bloom County".
The Uclick managed website GoComics.com powers the gadget with its extensive collection of more than 350 daily comics from classics "Calvin and Hobbes", "FoxTrot", "Garfield" and "Doonesbury" to cutting edge strips like "Argyle Sweater" and "Cul de Sac".
The gadget also highlights contributions from the GoComics.com web community, including comments, tags and favorites from thousands of posts by the website's registered users.
"Uclick worked closely with the iGoogle development team to create a new comics experience that's fun and intuitive," said Uclick CEO Douglas Edwards. "We also give online readers a glimpse into the huge depth of content and community discoverable at the GoComics website while creating a new revenue source for our cartoonists. We believe in this art form as popular entertainment and the GoComics gadget for iGoogle helps keep comic creators doing what they love to do."
"As a publisher on mobile phones and the desktop web we're constantly reinventing how we distribute comics," continued Edwards. "iGoogle is an incredible platform that reaches millions looking for a favorite comic or who may be discovering the medium again. Our new GoComics gadget for iGoogle is part of our strategy to expand the cartooning medium to readers old and new through digital media. We deliver daily entertainment features wherever our readers want their comics."
This is just one of the many innovative distribution strategies that Uclick is pioneering. They recently launched a new mobile iPhone application that enables users to read comics on their Apple iPhones or iPod Touch handsets. Ultimately, this not only extends their reach to comics fans but paves the way for other exciting applications to come.
Click here to add the GoComics gadget for iGoogle to your homepage.
About UCLICK, LLC:
U.S.-based UCLICK® is a leading digital entertainment provider offering a broad mix of popular comic strips, manga, editorial cartoons, and other content for desktop web and mobile phones. Through worldwide distribution relationships Uclick delivers entertaining comics, puzzles, games and much more to hundreds of online clients. Partners featuring Uclick content include the major consumer and news web portals Yahoo!, MSNBC.com, New York Times, washingtonpost.com, CNN, USA Today, and AOL. The Uclick features include the top brand franchises Garfield, Paul Frank, Teenage Mutant Ninja Turtles, TOKYOPOP, USA Today, Pat Sajak, Wyland, and many more. Uclick creative content and services are available through the GoComics.com website, U.S. mobile phone operators, and other leading distributors worldwide. UCLICK, LLC is a division of Andrews McMeel Universal, the leading syndicate and publisher of humor books and calendars in North America. For more information on Uclick, visit http://www.uclick.com.
###