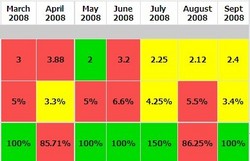 This software forces you to enter who is doing the action item and also requires a due date. There are no open ended discussions. Communication is top to bottom and back to the top every week
Alpharetta, GA (PRWEB) October 17, 2008
Accountability, business metrics and company communications can all be managed by the Process Based Leadership ScoreCard®, a web-based software program from Competitive Solutions, Inc. (CSI).
The leadership training and consulting company has just released Version 2.5 of its PBL ScoreCard®. The software not only drives metrics and accountability at all levels, but also provides a unique communication platform that tracks meetings, action registers, corrective actions and performance management.
Version 2.5 utilizes the non-negotiable processes of CSI's Process Based Leadership® and offers significantly more than just scorecard software – it can now link all scorecards directly to any other reporting system, and can be updated automatically. The upgrade is also easier to use, thanks to its ability to automate the import of business metric values from other systems using either batch processing or web services.
In addition, navigation has been made even easier through expandable and collapsible team and scorecard structure, and the ability to type-ahead when selecting names from drop down lists. All PBL ScoreCard® users now have additional flexibility in viewing options. Users can now customize their views with select number of calendar periods to display in scorecard view, more detailed date options in action register, date/time/user stamp when adding or modifying action register comments or scorecard notes.
"I'm particularly pleased since our upgrade to the newest release – this is a company that actually listens to our feature requests and quickly integrates them into their software. It is a refreshing change from the Microsoft's of the world," said Doug Brown, CISSP Manager, Information Technology, J&J / Invision.
"This software forces you to enter who is doing the action item and also requires a due date. There are no open ended discussions. Communication is top to bottom and back to the top every week," noted Ken Burton, Jr., Manatee County Florida Tax Collector. "The software allows me to see how my office is doing at anytime or anywhere."
CSI offers free PBL ScoreCard® webinars on a continuing basis. Visit the CSI website at http://www.pblscorecard.com for more information or to attend a demonstration.
Contact:
Jamie Edwards
770-667-9071
This press release was distributed through eMediawire by Human Resources Marketer (HR Marketer: http://www.HRmarketer.com) on behalf of the company listed above.
###