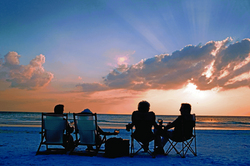 Tastes and Treats, Goblets and Goblins
Sarasota, FL (PRWEB) October 18, 2008
Sarasota & Her Islands, known for sugar-white sand beaches, a wide range of cultural activities and overall culinary excellence, celebrates Halloween with a plethora of hotel deals and exciting events at local attractions. Travelers benefit from fantastic lodging deals whether in town for a family fright fest or adults-only masquerade.
Lodging Deals
The 7th Annual Pumpkan Run at Hampton Inn & Suites Venice Bayside kicks of on October 31 and runs through November 2, 2008 with $89 room rates, including breakfast. Classic cars will be on display Saturday and Sunday; food and music will be offered both nights. For more information, please call (941) 488-5900.
The Sun-N-Fun Funtoberfest, a family weekend with carnival games, hayrides, and Halloween crafts, runs from October 17 to October 19, 2008 at the Sun-N-Fun Resort and Campground. Florida residents can enjoy RV and tent sites for $25 per night, and 2-day RV rental rates from $165. For more information, please call (800) 843-2421 or visit the website.
The Hampton Inn Sarasota is offering an $85 per night "Trick or Treat Rate" from October 30-November 2, 2008. Guests must ask for the promotion by name to receive the rate. For more information, please call (941) 371-1900 or visit the website.
AmericInn Hotel & Suites is offering up to 50 percent off a second night when booking two consecutive nights. The package also includes late checkout and complimentary breakfast. For more information, please call (941) 342-8778 or visit the website.
Halloween Happenings
Cork is sponsoring a "Tastes and Treats, Goblets and Goblins" Halloween wine tasting event on Friday, October 31, 2008, from 6-7:30pm. For $10 per person, guests can sample wines selected by Cork's wine specialist Rebecca Robinson and local wine representative Ramsay Jones. For more information please call (941) 388-2675.
The Main St. Doggie Costume Parade kicks off on Sarasota's Main Street on October 25 at 10am. The canine pageantry is sponsored by Max's Dog Bakery and benefits the Sarasota Humane Society.
The South Florida Museum's Second Annual Family "Creepover" takes place from Saturday, October 25 to Sunday, October 26, 2008. Families with children ages 8-12 are invited to enjoy Halloween activities, a family-friendly film and giveaways prior to spending the night in the museum. $35 per participant ($30 for members), first parent is free; $20 for each additional adult. For more information, please call (941) 746-4131 or email acocilovo@southfloridamuseum.org.
Sharktoberfest at the Mote Aquarium runs throughout the month of October. Children are invited to wear their Halloween costumes to the aquarium to receive a treat bag and free admission. Please call (941) 388-4441 for more information.
Sarasota Jungle Gardens' "Creatures of the Night" is a celebration of creepy crawlers that lurk in the Jungle during Halloween. On Friday, October 31, 2008, children ages 3-12 who come in costume receive free admission. For more information, please call (941) 355-5303.
Sarasota and her string of eight islands are located along Southwest Florida's Gulf Coast between Tampa and Ft. Myers. Sarasota and Her Islands is comprised of Sarasota, Longboat Key, Lido Key, St. Armands Key, Manasota Key, Siesta Key, Casey Key, Englewood, Nokomis, North Port, Osprey and Venice. In addition to sandy beaches, Sarasota and Her Islands also offer numerous cultural and ecological attractions. For more information on saving and discovering in Sarasota, call the Sarasota Convention & Visitors Bureau at (800) 522-9799 or visit http://www.sarasotafl.org. Please visit our Halloween landing page at http://www.sarasotafl.org/halloween/.
###