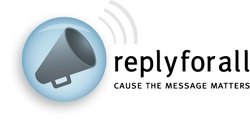 San Francisco, CA (PRWEB) October 17, 2008 -
replyforall.com announces the launch of "Your Message, Your Vote," the online contest for non-profits. Any non-profit is eligible to win a $10,000 donation from replyforall by getting the most supporters to vote for their organization. Supporters vote for a non-profit simply by including the organization's name in their replyforall email signatures.
Each replyforall email signature features a user's selected cause, non-profit, and an advertiser sponsoring the signature. replyforall shares advertiser payment with the non-profits selected to represent its eight causes. With replyforall, people can promote and financially support causes without having to donate cash. replyforall launched earlier this fall with ThinkMTV as its launch sponsor.
Your Message, Your Vote opens the replyforall product beyond the selected founding non-profit partners to any non-profit. replyforall provides non-profits with a new, powerful way to realize the full social value of their tremendous assets: existing supporters. With replyforall signatures, existing supporters can promote their chosen non-profits to the true friends and family with whom they directly communicate and influence everyday. This footprint in their supporters' daily emails allows non-profits to join the conversations taking place everyday among supporters, beneficiaries, and partners.
"replyforall helps us change all of the emails we have into something we can do. With this contest, replyforall provides a new and innovative way for non-profits to spread the word about their missions - organically, virally, and sustainably. Non-profits can use their supporters' established and trusted social relationships to evangelize their missions. For users, we're defining 'donating' in a new way. It now isn't just about a cash donation, it's about promoting the causes and non-profits you believe in - and having advertisers pick up the check," says Enmi Kendall, founder of replyforall.
Your Message, Your Vote Launch
From now through December 31, 2008, supporters are asked to cast a vote for their favorite nonprofit by including the organization's name into their replyforall signatures. Non-profits interested in participating are directed to replyforall.com to register, promote the contest with their members, and become eligible for the donation.
About replyforall.com
replyforall is an online media company that connects users, causes, and advertisers through shared causes. replyforall is anchored by the belief that the most sustainable way for people to have an impact is to make it a part of what we do everyday.
###