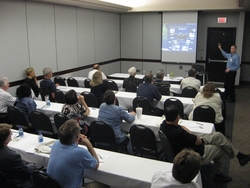 Whether you are a volunteer in a small Condo high-rise, or a multi-property Community Manager working for a large firm, Training Camp 2008 had a course designed to talk directly to you and address your particular set of needs
Duluth, Ga (Vocus) October 17, 2008
Industry leading community website provider AtHomeNet (http://www.AtHomeNet.com) recently held their fourth annual Training Camp on Sept.24th at the Gwinnett Center in Duluth, Georgia. The annual event attracted over one hundred Association Managers, Community Administrators, and neighborhood volunteers from a variety of states including Florida, Massachusetts, and North Carolina to name a few.
AtHomeNet's Training Camp has traditionally been a chance for clients both long term or new to the website service to network with each other while attending a series of classes, discussion groups, and one on one sessions hosted by AtHomeNet's staff. The event mainly focuses on utilizing AtHomeNet's Community Association Web Site service to improve communications and enhance efficiency in residential communities, large scale HOAs and subdivisions. There was also a series of courses aimed at clients of their Association Management Website service as well as general Homeowner & Condo Association volunteers and Administrators.This year's Training Camp also featured classes introducing AtHomeNet's newest version 'AtHomeNet Elite," which is scheduled for a fourth quarter release.
"Whether you are a volunteer in a small Condo high-rise, or a multi-property Community Manager working for a large firm, Training Camp 2008 had a course designed to talk directly to you and address your particular set of needs," stated Jeff Sanders, AtHomeNet's Director Of Technology.
"It was particularly refreshing to see such a wide variety of AtHomeNet website users. We had a young lady from a Georgia HOA who had only signed up for our service two days ago; on the other side we had an Association manager with over 200 properties that had been with us for more than 5 years. That's what this event is all about, bringing communities and Homeowner Association industry leaders together under one roof to share and learn," added Marketing Director Susan Sanders.
A new addition to this year's camp was a complimentary DVD which featured a summary version of all of the classes offered during the event. Attendees appreciated this, as there were times when two classes offered at the same time were both of high interest. The DVD alleviated their concerns about missing any classes they could not attend. The limited edition DVD is also available for purchase online by visiting the company's site or entering the following Url into a browser. http://www.yourcommunitybulletins.com/TrainingCamp/OnlinePayment/trainingcamp2008_onlinepay.htm
About AtHomeNet
AtHomeNet is the nation's premiere provider of customized, affordable websites for Communities, Condo & Homeowner Associations, and Professional Association Management Firms. The company was founded in 1998 by husband and wife team Jeff & Susan Sanders. With their websites in most of the U.S states as well as several countries abroad, AtHomeNet continues to grow as a company and enhance their services in the ever expanding world of online technology.
For more information on the company, visit AtHomeNet.com or contact Susan Sanders at 1-800-556-7852
###