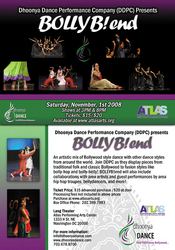 Washington, D.C. (PRWEB) October 17, 2008
Dhoonya Dance Performance Company (DDPC), the area's premiere South Asian dance troupe, is proud to announce its upcoming show "BOLLYB!END," a celebration of dance styles around the globe intertwined with the enchanting world of Bollywood.
BOLLYB!END will feature classic Bollywood pieces along with traditional folk numbers, such as Garba, a popular folk style originating from the Indian state of Gujarat. Performances will also include fusion numbers that artistically blend Bollywood with hip hop, bellydance, and other popular dance genres.
DDPC, along with area artists and special guest performers, will present BOLLYB!END on Saturday, Nov. 1 with shows at 3 p.m. and 8 p.m. Performances will be held at the Lang Theatre in the Atlas Performing Arts Center at 1333 H St. NE.
"Bollywood" refers to one of the most popular film genres in the world, producing more films annually than any other movie industry. Based in Mumbai, India, a hallmark of the Hindi-speaking film industry the vibrant musical numbers with its signature steps and intricate choreography.
Tickets are $15 in advance or $20 at the door, and are available at http://www.atlasarts.org.
About the DDPC (visit us at http://www.dhoonyadance.com)
The Dhoonya Dance Performance Company (DDPC) a co-ed dance company comprised of the Washington, D.C.-area's most elite and talented South Asian dancers. The Performance Company has performed all over the Washington metro area, including the Kennedy Center, the National Cherry Blossom Festival, Asia Heritage Festival, Washington Metropolitan Opera's MidWinter Gala. DDPC also created special choreography to the hit "Basement Bhangra" in front of DJ Rekha herself, as well as celebrity guests Bono, Ashley Judd, and Padma Laxmi at the 2007 YouthAids Gala.
###