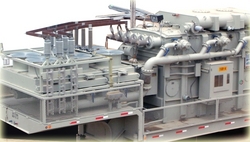 The Hottest Name in Cooling
London, Ontario (PRWEB) October 17, 2008
Unifin, (http://www.unifin.com ) a world-leading supplier of Cooling Equipment and Transformer Oil pumps and valves to the Power Generation and Power Transformer industries, offers ForZair™ Mobile Transformer Oil Coolers. The ForZair™ line of high quality Mobile Coolers is available in standard sizes and configurable designs to simplify the purchasing process and ensure quick delivery of your Cooling Equipment.
ForZair™ Mobile Coolers feature Unifin's unique Mono-Aluminum Extruded Fin-Tubes and the industry's best plate fin technology, both of which provide optimal heat transfer efficiency and exceptional durability. ForZair™ Mobile Coolers are designed to work with Cardinal Transformer Oil pumps, which utilize a glandless design to prevent leaks in demanding Transformer Oil applications.

The Cardinal Transformer Oil pumps are available in both centrifugal and axial flow designs and are designed to perform in extreme temperatures, with extra long life and very low maintenance for the most efficient Cooling Equipment.
ForZair™ Mobile Coolers are available with a performance range of 125 KW-750 KW, for oil flows of 200 usg/m-650 usgpm and a top oil rise (TOR) of 35ºC - 63ºC.
The intelligent design and configurability of ForZair™ Mobile Coolers facilitates efficient manufacturing, resulting in faster delivery and lower costs. Ordering is easy, as designs are chosen at time of quote from detailed selections that take only minutes to prepare. Cooling Equipment products, including our Mobile Coolers, can even be ordered by model number.
Options for ForZair™ Mobile Coolers include surface treatment, and galvanized finish is standard. A two-part epoxy paint option is available on the Mobile Coolers for chemically-aggressive environments (2 part epoxy) and a durable three-part system is available for marine environments (coastal duty).
For more information about Unifin's superior performance ForZair™ Mobile Coolers for the most efficient Cooling Equipment for all overheating transformer applications in the power generation and power transformer industries, and to see additional Unifin Cooling Equipment, please visit http://www.unifin.com/prodA10.asp?m=cascadeList,A .
About Unifin
Unifin International, "The Hottest Name in Cooling," has been an innovative designer and manufacturer of heat transfer products for many years. Now a world-leading supplier of Transformer Oil coolers and pumps to the power generation and power transformer industries, the company has also emerged as a premier supplier of Large Power Generator, TEWAC Motor and power transformer Cooling Equipment. Headquartered in London, Ontario, Unifin is a part of Koch Industries, one of the largest privately held companies in the world. For more information on Unifin International and its complete line of cooling products, visit http://www.unifin.com or call 1-888-451-0310.
###