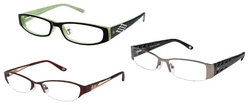 New York, NY (PRWEB) October 18, 2008
Apple Bottoms has teamed up with Eyewear Designs Ltd. to create a line of Apple Bottoms contemporary eyewear. The eyewear line was launched in fall 2008, and will soon be available at optical specialty stores nationwide. The Apple Bottoms eyewear will come in a variety of innovative, alluring styles.
Based on the tremendous response to the Apple Bottoms eyewear, the company plans to create a line of limited-edition prescription sunglasses and eyewear, which will be available in spring 2009. The limited-edition collection will be sold through ophthalmic retailers.
In February 2008, the successful fashion brand Apple Bottoms, collaborated with Pan Oceanic Eyewear, Ltd. and launched a sunglasses line. The collection, which was inspired by the same trend-setting sunglasses designed throughout Europe, promised to offer women styles as individual as their own personalities.
The frames, which can be found throughout specialty sunglasses stores nationwide, offer quality at an affordable price. The frames range from $34+, and come in a variety of colors, styles, and materials. The sunglasses have been flying off the shelves since they were launched, and as such, the company, which is known for their unique detailing, plans to incorporate more of their signature designs for the spring 2009 collection.
Apple Bottoms, which is known best for the phrase "the clothes should fit the woman, not the woman fit the clothes," once again proves, through the unique designs of their eyewear line, that they truly understand the needs of today's fashion-forward woman.
Apple Bottoms, a fashion and lifestyle brand, is the result of a collaboration between multi-platinum artist Nelly, and ICER Brands, LLC.
ICER Brands, LLC is a privately held market leader, with an extensive track record of successful product development, marketing, and the persistent execution of fashion-forward styles. The company's name "ICER", which is an acronym for Integrity, Customer, Excellence & Respect, offers just that.
# # #