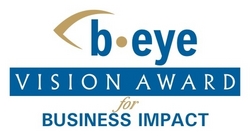 Boulder, CO (PRWEB) October 20, 2008
The BeyeNETWORK (http://www.BeyeNETWORK.com) is pleased to announce the winners of our first annual Vision Award for Business Impact. In keeping with our mission to provide a global vision for business intelligence (BI) and beyond, this award recognizes the efforts of companies that have successfully used BI software and technology to positively impact their organizations.
More than 50 entries were received in five categories, providing real-world testimony to the impact that software solutions can have on an organization.
The winning submissions covered a range of industries from healthcare to law enforcement to direct marketing. All showed how important effective applications of business intelligence and analytics are to a company's bottom line and how good strategic decision making can even improve morale and productivity for a happier workforce. The following solutions were chosen as the best in their categories at creating measurable business impact. The 2008 Vision Award for Business Impact winners are:
Business Intelligence
Sabre Holdings with Teradata Corporation
Advanced Business Intelligence
City of Houston Police Department with Information Builders
Advanced Business Intelligence
eCourier.co.uk with SeeWhy
Performance Management
Presbyterian Healthcare Services with Actuate
Performance Management
Envision Credit Union with Cognos, an IBM company
Data Integration
LifeMasters with Pervasive Software Inc.
Data Integration
Comag Marketing Group with Relational Solutions
Data Integration
Editions Techniques pour l'Automobile et l'Industrie with Talend
Data Management
Premier Inc. with Silver Creek Systems
To read excerpts from the winning entries, please click here.
The BeyeNETWORK would like to thank the following judges for their time and attention to detail while evaluating a host of entries: Lou Agosta, ACM; Richard Hackathorn, Bolder Technologies; Claudia Imhoff, Intelligent Solutions; David Loshin, Knowledge Integrity; Mark Madsen, Third Nature; William McKnight, Lucidity Consulting Group; John Myers, The Blue Buffalo Group; and Colin White, BI Research. The objectivity and expertise these judges provided was invaluable.
About BeyeNETWORK™
The Network's flagship site BeyeNETWORK.com leads the industry with up-to-the-minute news, newsletters, articles, executive spotlights, podcasts, expert-hosted channels and blogs. Experts include Claudia Imhoff, Bill Inmon, Craig Schiff, Colin White, David Loshin, and others. BeyeRESEARCH.com provides research and case studies from leading authors and experts in business intelligence. BeyeBLOGS.com is a business intelligence-specific community blogging site that provides an open forum about industry issues and challenges. BeyeSEARCH.com offers the first and only editor-driven directory and search engine specially built to serve this industry.
Contact:
BeyeNETWORK
Mary Jo Nott
mnott@b-eye-network.com
+1-262-780-0202
###