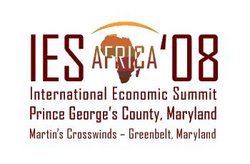 Brewing Up Business With Africa
Largo, MD (Vocus) October 17, 2008
The Africa Trade Office, Prince George's County Economic Development Corporation, African Business Owners Forum, Inc, African Business Roundtable-USA and Prince George's County present the 2008 International Economic Summit, (IES) "Brewing Up Business With Africa" on November 10-11, at Martin's Crosswinds, 7400 Greenway Center Drive, Greenbelt, Maryland. The two-day event includes a full day of business-to-business meetings, with information sessions, followed by tours of The Port of Baltimore, BWI/Cargo, major development projects in Prince Georges County and a Gala Dinner. A fee of $65 includes participation in all events.
This deal-making conference results from business-to-business meetings pre-scheduled in an electronic matchmaking matrix established by the Africa Trade Office. The new business model has shifted the paradigm of how business is conducted globally, which has expanded trade and investment opportunities for participants.
Once registered, local companies will be able to engage in discussions directly with prospects, which may lead to deals with businesses from as many as sixteen African countries. However, each trader only has a few meeting slots, which is why businesses are encouraged to register early. While the business-to-business meetings are being conducted, information sessions will also be held on topics including exporting agricultural products; financing, tourism and infrastructure; logistics and forming strategic international partnerships.
On the second day, following a tour of Prince George's County, at the Gala remarks will be given by several distinguished leaders, including the Assistant Trade Representative For Africa, Maryland's Secretary of State and County Executive Jack B. Johnson. Several delegations from Africa will also attend the Summit including Governor and First Lady from the Cross River State and First Lady from Osun State in Nigeria; Chairmen of various chapters of The African Business Roundtable worldwide, Ministers, CEOs of multinational corporations headquartered here and abroad and Managing Directors of several leading African banks.
This is a signature event for the newly established Africa Trade Office. From the moment participants enter Martin's Crosswinds they will be transported to the continent of Africa and greeted with the aroma and samples of many of the coffee blends. In an effort to expand their U.S. distribution, coffee and roasting companies from Cameroon, Ethiopia, Kenya, Rwanda, and Uganda will display their specialty brands throughout the entire Summit. Participants will also have an opportunity to meet with traders of goods and services, while learning the intricacies of international trade, all over a cup of freshly brewed coffee.
Online registration is available at http://www.pgcedc.com
Media Contact:
Pat Thornton
office 301.583.4614
cell 240.533.5084
Info: 301.583.4650
[email protected]
###