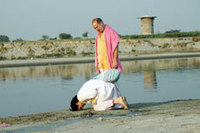 A human and profound yoga documentary.
San Francisco, Calif. (PRWEB) October 17, 2008
Enlighten Up!, a documentary film about a skeptic's journey into the world of yoga, is screening at the San Francisco International Documentary Festival's Roxie Theater on Saturday, October 25th and Tuesday, October 28th.
The feature-length film is distinguished by its view of mystical yoga through the eyes of a curious-but-skeptical hedonist. The film follows Nick Rosen, a 29-year-old New York City journalist, through mainland United States, Hawaii and India as filmmaker and yoga enthusiast Kate Churchill documents Nick's increasing immersion in the world of yoga. Her goal is to prove that yoga can transform anyone, even Nick.
Before he can say "om", Nick finds himself twisted like a pretzel surrounded by celebrity yogis, true believers, entrepreneurs and some dedicated teachers. The more Nick investigates yoga, the more contradictions he discovers and the more he strays from Kate's original plan to document his transformation. As the two circle the globe they don't find the answers to their questions, they find more.
Nick and Kate visit many of yoga's most renowned teachers in order to answer Nick's questions and address his doubts, including Pattabhi Jois and B.K.S. Iyengar, the founder of Iyengar Yoga (who was named one of the 100 most influential people in the world by Time Magazine).
Additional yoga teachers who share their insights are Norman Allen, Sharon Gannon and David Life of Jivamukt Yoga, Dharma Mitra of Dharma Mitra Yoga, Diamond Dallas Page former pro wrestler turned yoga teacher, Dr. Madan Kataria of Laughing Yoga, Rodney Yee star yogi in Living Arts videos, Cyndi Lee of OM Yoga, Gurmukh of Golden Bridge Yoga, Alan Finger of Yogaworks, Baron Baptiste of Baptiste Power Yoga, Beryl Bender Birch of Hard and Soft Yoga and Natasha Rizopoulos of Yogaworks.
Enlighten Up! opened last month at the Museum of Fine Arts, Boston and Landmark's Kendall Square Theater to strong reviews:
"A human and profound yoga documentary." -- The Boston Phoenix
"Quirky fun, and Rosen is an irresistible guinea pig." -- The Boston Globe
Ticket Information:
San Francisco Interntational Documentary Festival
Enlighten Up! showtimes:
Saturday, October 25 at 5:00pm
Tuesday, October 28, 7:15pm
http://www.sfindie.com
Director Kate Churchill and star Nick Rosen will be present at the Roxie Theater for post-screening discussion.
For more on EnlightenUp, visit the trailer or the film's website.
# # #