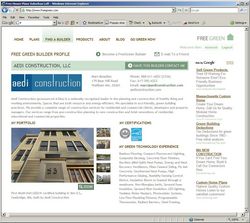 The housing market is changing and builders need to change with it if they want to survive. The FreeGreen Builder Program gives our builders a new way to use the internet as a true sales channel.
Charlestown, MA (PRWEB) October 18, 2008
With the current residential housing market crash and global credit crisis the business model for home builders is rapidly changing. This fact was solidified with today's announcement of a 6.3% drop in housing starts. No longer can builders put up "spec homes", or purchase multiple lots, building one show home, and hoping to sell similar houses on vacant land. In this new market, Home Builder's and Renovators must actively seek out and find clients with land or an existing home, as well as hard to come by capital.
To address this issue, FreeGreen.com, provider of free green house plans has launched its FreeGreen Builder Program. This new feature allows green home builders across the country to upload their own "Facebook" like profiles, portfolios of their work, and even "price out" FreeGreen's Free House Plans. FreeGreen users can then search for green home builders by zip code, state, or by the house plans that a builder has priced. This unique service allows builders to obtain targeted leads, and FreeGreen users to research and find reputable green home builders.
David Wax, CEO of FreeGreen Inc., explains, "The housing market is changing and builders need to change with it if they want to survive. The FreeGreen Builder Program gives our builders a new way to use the internet as a true sales channel."
Wax continues, "Today, over 50% of FreeGreen's users own land or an existing home in need of renovation, and all of our users have the ability and desire to go green. We have received hundreds of e-mails asking for recommendations of green builders to build our plans, or renovate our user's homes. This program allows us to easily connect these potential clients with our growing network of green home builders and renovators."
FreeGreen has offered its existing builder users a free year subscription to this new service. Many of FreeGreen's builders have already loaded profiles prior to go-live and are ready to accept new leads. New builders will be able to take advantage of a free trial period which lasts until January 1st, 2009. After this date FreeGreen will begin charging $25 per month for this service.
As Wax states, "In the past builders have avoided using the internet as a true sales channel. This aversion is do to lack of understanding, technical hurdles, and a void of sites that could provide real leads. The FreeGreen Builder Program changes everything. We understand our builder users and had them help us create this program. It is built for builders, by builders and allows anyone with basic internet skills to have a great web presence and gain access to new leads."
Through 2009 FreeGreen will continue to add many social networking features commonly found on sites like Facebook and Twitter. Some of the initial enhancements will include allowing users to become "followers" of different builders on the site. Builders will then be able to post updates on their current projects creating a community of interested parties.
Wax concludes, "Our site and new Builder Program is a great way for builders to get new customers and learn about green building in a non-intrusive, certification neutral, free environment. To date we have had over 9,000 free house plans downloaded. Each of these downloads represents an opportunity for our builder community to connect with users and build the home of their dreams."
About FreeGreen Inc.:
FreeGreen was co-founded by five principals as a spin-off from their first startup, Zero Energy Design (a leading high-end custom green home architecture firm). FreeGreen launched its site on April 1st, 2008, and is the only company in the world giving away free house plans. FreeGreen continues to grow its offerings which now include house plans, customization services, and a builder community.
###