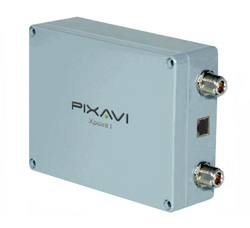 Wireless networks are increasingly being adopted in mission critical systems.
Stavanger, Norway (PRWEB) October 27, 2008
In what is considered one of the largest contracts of its kind, Pixavi (previously VisiWear) has a while ago been awarded the exclusive right to supply it's range of explosion proof and Intrinsically safe Wi-Fi Wireless LAN, wireless network and antenna products to StatoilHydro, one of the largest offshore oil and gas companies in the world.
The contract involves wireless coverage on all StatoilHydro's Norway installations, both onshore and offshore.
"Clearly it involves a large quantity of wireless infrastructure products and at the same time It underlines our position as one of the leading vendors of industrialized and EX certified wireless network products," stated Managing Director, Christian Rokseth.
"We are very satisfied with this contract. Through the decision of building wireless networks throughout their assets, StatoilHydro has clearly seen the benefits of building a solid wireless infrastructure base in order to cut cabling cost, increase reliability and lower the maintenance cost of their installations. Further, they will be able to enjoy and profit on new and innovative applications like Pixavi's own intrinsically safe 802.11n wireless video communication technology, Location tracking products, Wireless CCTV products and also third party wireless VoIP, PDAs, Rugged laptops and wireless Sensor Technology in order to increase efficiency and safety on these installations."
"Wireless networks are increasingly being adopted in mission critical systems.", mr. Rokseth continues. "With basis on redundant frequency operations and reliable hardware and software technologies, Wi-Fi wireless networks are gradually replacing cabling in applications that previously were unthinkable because of lack of reliability and redundancy. The new 802.11n standard also offers close to the same network speed as cabling and thereby, wireless networking has definitely become a cost effective alternative to cabling within industrial communication applications."
Pixavi Sales Manager, Thomas Zaubi, stated: "Combining our Xpoint Explosion proof and Intrinsically safe access points with the Xbeam EX certified high gain antennas, including omnidirectional, sectorial and directional antennas and our ultra low loss coax cable series opts for a very powerful solution. It simply enables our customers to create a cost efficient, secure, solid and reliable wireless coverage in hazardous area zone 1 and zone 2."
About StatoilHydro
StatoilHydro is an integrated technology-based international energy company primarily focused on upstream oil and gas operations and is the biggest offshore oil and gas company in the world as well as the largest company by revenue in the Nordic Region
About Pixavi
Pixavi is a privately owned company that delivers state of the art wireless communication products, including wearable and mobile video products, wireless network products (802.11n, 802.11g WiFi and WIMAX), WLAN antenna products, location tracking and wireless video surveillance technology. The company's award-winning solutions also come in intrinsically safe, EX approved and explosion proof versions according to ATEX and IECex and are used by the world's leading enterprises in a multitude of industries. With a broad suite of open, standards-based products, Pixavi has a high focus on technology innovation. Pixavi is currently recruiting and looking for potential investors in order to grow internationally.
Contact us for for more information:
Thomas Zaubi
Sales Director
"+47 90943156"
sales(a)pixavi.com
http://www.pixavi.com
Legal Notice:
This news release contains forward-looking statements that involve risks, uncertainties and assumptions. If such risks or uncertainties materialize or such assumptions prove incorrect, the results of Pixavi and its consolidated subsidiaries could differ materially from those expressed or implied by such forward-looking statements and assumptions.
# # #