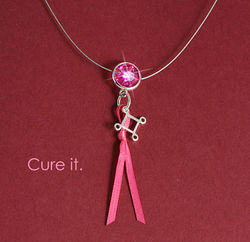 This cause is very close to our hearts at FIREJEWEL and Moojoo Ken. My mother is a 30-year breast cancer survivor
Washington, DC (Vocus) October 21, 2008
In FIREJEWEL's Rockville, Maryland studio, Heather Dadmanesh and Danae Kamara have created a brilliant, limited edition necklace exclusively for Moojoo Ken to raise awareness and funds for breast cancer research. "This cause is very close to our hearts at FIREJEWEL and Moojoo Ken. My mother is a 30-year breast cancer survivor," tells Ali Ayrom, a moojoo ken owner-designer and one of Dadmanesh's most precious friends. This special necklace will be available for $50 at Moojoo Ken and online at http://www.firejewelusa.com. All of the proceeds, 100%, will be donated to the cause.
About the Necklace
FIREJEWEL selected Swarovski's AB rose faceted ball stone with its crisp facets. Inserting a tiny, delicate pink light about the size of grain of sand inside the stone emulates the soft, yet luminous beauty of internal light and empowerment. A small, replaceable watch battery is housed in the clasp. A pink ribbon and moojoo ken emblem charm are in close proximity to the beautiful light. The glowing stone will draw attention to the sweetly tied pink ribbon and will remind the admirer of the importance of early detection and prevention of this most deadly of diseases.
Certainly the necklace will provide an opportunity for conversation; open dialogue about the need to eradicate cancer is paramount to finding a cure. Awareness, prevention and diagnosis along with the hope and promise of a cure represent our wish that those everywhere who wear this shining, elegantly stunning necklace will share our vision of a healthy, prosperous future for women everywhere.
About FIREJEWEL
US and International Patented...FIREJEWEL is the innovator of fashion jewelry and accessories that offer a subtle illumination. Traditional jewelry often fades with the evening shadows, but a piece by FIREJEWEL defies the darkness, carrying its own internal "fire" into the night. LED technology is the fastest developing lighting product on the market today. FIREJEWEL is a leader in micro-illumination jewelry and accessories, and their technology is patented in the USA and worldwide. FIREJEWEL has also received international awards in Germany and Japan for design originality. Visit http://www.firejewelusa.com.
About Moojoo Ken
Moojoo Ken means "unconditional" in Japanese, as the owners have drawn on their extensive travels to inspire their collection. The DC Fashion Design Label serves up a colorful, eclectic line that features a childhood dream emblem. The collection of unique handbags, shoes, and accessories take their names from historic and exciting Washington, DC neighborhoods, streets and locales. Washington, DC might not be known for its fashion, but moojoo ken wants to change that perception. Visit 1512 U Street, NW or http://www.moojooken.com.
###