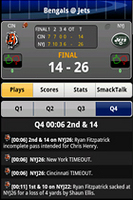 There is tremendous excitement around the applications that will be available on Android Market
Santa Clara, CA (PRWEB) October 20, 2008
Plusmo, the innovative company behind some of the most popular mobile sports applications, announced today that the Pro Football Live and College Football Live applications will soon be available to T-Mobile G1 customers through Android™ Market. Android Market hosts some of the top unique mobile applications and mash ups of existing and new services from developers around the world. With just a few short clicks, customers can download Plusmo's football applications right to their Android-powered phone.
"There is tremendous excitement around the applications that will be available on Android Market," said Srinivas Mandyam, CTO of Plusmo. "Plusmo's sports applications are already a hit with mobile users who want to stay on top of their favorite teams, players and games, and now will be available to millions more customers as part of this blockbuster rollout by Google and T-Mobile."
Plusmo delivers the best interactive pro and college football experience on any mobile device with "end zone-to-end zone" updates and scores, game schedules, breaking news, stunning game-time visuals and the latest polls. In-progress updates are pushed right to your phone as they happen. In addition to these great features, Plusmo's football applications are made even more exciting by the addition of advanced social features that let users chat live with other fans and cheer or jeer teams and players throughout the game.
Plusmo will continue to build out its portfolio of superior sports applications available on Android Market. Plusmo currently offers hundreds of mobile applications including Pro Football Live, College Football Live, Pro Baseball Live, Pro Golf Live and many more, all available for download at plusmo.com.
About Plusmo
Santa Clara, Calif.-based Plusmo provides an open mobile platform that delivers the best interactive sports experience on all major mobile devices. As evidenced by the popular Pro Football Live and College Football Live applications, Plusmo puts live sporting events in the palm of your hand with instant updates, game-time photos and fun social features that let users enjoy the game with fans and friends. For more information, visit plusmo.com.
Press Contact: Ann Marie Ricard for Plusmo, plusmo@tieronepr.com, 206-792-3277.
Android and Google are trademarks of Google Inc.
###