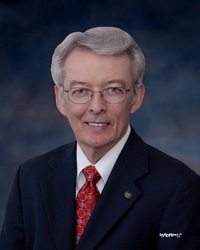 He has been instrumental in supporting leadership throughout the state and the Region 4 area
College Station, TX (Vocus) October 20, 2008
Bill McKinney, executive director of the Region 4 Education Service Center in Houston, Texas, will receive the coveted Golden Deeds Award from the Administrative Leadership Institute (ALI) in the College of Education and Human Development at Texas A&M University.
McKinney has been involved in education for 40 years. He has filled a number of educational roles, including math teacher, principal, director of research and evaluation, assistant superintendent and superintendent. He has served as president of the Association of Educational Service Agencies and as a board member of the Texas Business and Education Coalition and the Sam Houston Area Council Boy Scouts of America.
He earned a doctorate in educational research and applied statistics from the University of North Texas in 1976.
Now as executive director of Region 4, a post he has held since 1988, McKinney heads up a center that serves 54 school districts, representing more than one million students and 83,000 teachers.
McKinney's leadership impact has been significant. "He has been instrumental in supporting leadership throughout the state and the Region 4 area," said Duncan Klussmann, superintendent of schools in Spring Branch Independent School District.
As an educator, McKinney is driven by "the challenge to provide and deliver the best learning opportunities available that will enhance the quality of life for all students we serve."
He noted, "Clearly our kids deserve that excellence be the non-negotiable standard."
The Golden Deeds Award is considered the highest recognition for distinguished service to education in the state and is given to an individual from any profession who has consistently supported Texas students and teachers through his/her positive impact on public education.
McKinney will be honored at the ALI opening banquet at the Miramont Country Club in Bryan, Texas, on Nov. 19, 2008, at 6 p.m.
The opening banquet is part of the 2008 ALI Conference, to be held Nov. 19-20. This year's conference theme is Superhero Texas School Leaders Close The Student Achievement Gap: A Vision Fulfilled. It will explore issues such as how school administrators are fighting school drop out rates and unstable student test results, and finding and retaining quality teachers.
For more information on the conference or to register, visit http://eahr.tamu.edu/articles/administrative_leadership_institute. Questions also may be addressed to John Hoyle at jhoyle@tamu.edu or 979.845.2748 or to Virginia Collier at vcollier@tamu.edu or 979.862.1336. Registration deadline is Wed., Oct 31.
Sponsored by the Department of Educational Administration and Human Resource Development at Texas A&M, the Texas Association of School Administrators and PBK (a Houston-based architecture firm specializing in the planning and designing of educational facilities), ALI is designed to focus on a critical issue that will help school leaders create or transform schools to help all children become successful students and people.
Contact:
Dr. John Hoyle
979.845.2748
jhoyle@tamu.edu
Additional Information:
Kara Sutton-Jones
979.845.1823
kara.sutton@tamu.edu
###