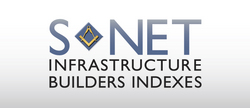 New York, NY (PRWEB) October 21, 2008
The S-Network Emerging Infrastructure Builders Index℠ (TICKER: EIBI), a leading financial indicator of the infrastructure industry in emerging markets, has been selected as the underlying index for an Exchange Traded Fund (ETF) listed on the New York Stock Exchange.
The PowerShares Emerging Markets Infrastructure Portfolio (TICKER: PXR) is sponsored by Invesco PowerShares Capital Management, LLC, an asset management firm based in Wheaton, Illinois.
The EIBI serves as an equity benchmark for companies engaged in the construction and maintenance of major infrastructure projects in emerging and middle-income markets.
The EIBI is the first infrastructure "builders" index of its kind. Unlike other infrastructure indexes, which include companies that "provide" infrastructure services on an ongoing basis, such as utilities and ports operators, the EIBI includes only those companies engaged in the construction and maintenance of large-scale infrastructure projects. Estimates call for infrastructure spending of some $20 trillion in emerging markets over the next two decades.
The EIBI comprises 66 stocks from around the world, including stocks based in key emerging markets and certain stocks domiciled in developed markets that benefit from extensive infrastructure business in emerging and middle income markets. The EIBI is a capitalization-weighted index, adjusted for free float. It includes stocks in seven sectors: a) Construction & Engineering, b) Construction Machinery, c) Construction Materials, d) Diversified Metals & Mining, e) Heavy Electrical Equipment, f) Industrial Machinery, and g) Steel.
Data is available through most data vendors, including Bloomberg LLP and Reuters. The EIBI Index is published by S-Network Global Indexes, LLC and S&P Custom Indexes serves as its calculation agent.
Contact:
Joseph LaCorte, CFA
S-Network Global Indexes, LLC
646-467-7927
###