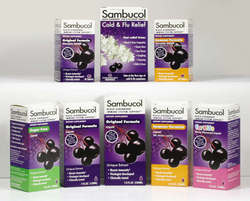 Antioxidants are also known to support and enhance immune function - so they play a very important role in preventing and treating infectious diseases.
Nottingham, UK (PRWEB) October 21, 2008
A little known berry, Sambucus nigra L, otherwise known as black elderberry, that is native to most of Europe, northwest Africa and southwest Asia, is making itself known this year here in the United States in the form of a dietary supplement called Sambucol®, now being sold in drug chains and health food/vitamin stores throughout the U.S, just in time for winter.
The Sambucol® brand - not to be confused with other products with similar names - has been sold for the past 15 years in more than 15 countries but with limited availability here in the U.S. However, beginning this month, the Sambucol® brand will now have wider distribution throughout the U.S. in major chains, such as CVS, Rite Aid and Walgreens, as well as all Vitamin Shoppes, and many independent health food stores. According to the manufacturer and distributor of Sambucol®, Healthcare Brands International (HBI), a U.K. company, it's important that consumers know that Sambucol® is unique in that it is the only black elderberry extract used in published clinical trials.
According to data from the U.S. Department of Agriculture (USDA), elderberries have twice the antioxidant capacity of blueberries and significantly more than the capacity of cranberries. Throughout history black elderberry has been used to treat colds, flu, fever, burns, cuts and more. Elderberries are unusually rich in antioxidants, which are thought to be necessary to support the immune system.
"Antioxidants are important molecules that reduce the damage that oxygen-based free radicals can cause to cells," says Claire Wheeler, M.D., an instructor at Portland State University's School of Public Health and a former Associate Fellow in the Andrew Weil, M.D. training program for physicians at the University of Arizona, who practices integrative as well as traditional, medicine. "Antioxidants are also known to support and enhance immune function - so they play a very important role in preventing and treating infectious diseases."
She adds that, "Many people have diets that are deficient in these important nutrients, so using an antioxidant-rich elderberry extract, such as the one found in Sambucol®, helps the body to maintain a strong defense to fight the many types of viruses that will be trying to invade it during the winter months and beyond."
The benefits of the elderberry can be traced back to prehistoric times. Evidence of this use has been seen in Stone Age villages located at sites in Italy and Switzerland; recipes were also discovered showing black elderberry use in Ancient Egypt.
Sambucol® is the original elderberry product, researched and tested in published clinical trials showing it to help support the immune system. Produced from whole black elderberries,
Sambucol® dietary supplements have the equivalent of up to 1,000 black elderberries in every 120 ml/4-ounce bottle. According to HBI, Sambucol's unique formulation and extraction process preserves and maximizes the naturally-occurring health benefits of the berry.
Sambucol® black elderberry dietary supplements include Sambucol® Original Formula, Sambucol® For Kids, Sambucol® Immune Formula, Sambucol® Sugar Free, Sambucol® Original Formula Chewable Tablets, and Sambucol® Immune Formula Chewable Tablets.
The newest product, available this fall, Sambucol® Cold & Flu Relief Tablets, is a homeopathic formulation of black elderberry and zinc gluconate and is safe for children four years and older, as well as adults. Go to http://www.sambucolusa.com for more information on Sambucol® black elderberry products and complete store availability.
###