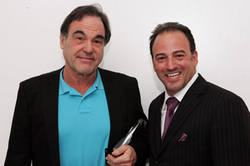 The contest is a great stepping stone for emerging writers. We're honored to champion them
Calabasas, CA (PRWEB) October 21, 2008
Final Draft, Inc., publisher of Final Draft®, the #1-selling scriptwriting software and Script magazine, will be hosting its annual corporate event in Hollywood, CA where Steven J. Cannell will be awarded the 4th annual Hall of Fame Award. This award is given by Final Draft, Inc. to entertainment industry luminaries who foster the art of scriptwriting and nurture and inspire the creative process.
"We look forward to this event each year as an opportunity to thank our friends and partners who have helped and supported us along the way," says Marc Madnick, Founder and CEO of Final Draft, Inc.
Final Draft, Inc. will also honor the top-three winners from the 9th annual Big Break® International Screenwriting Contest. The winners are flown in for the event where the first, second and third place winners will be revealed for the first time.
The Big Break contest supports emerging creative talent and reinforces the Final Draft, Inc. mission to advance and provide industry access to writers. The Big Break contest rewards screenwriters with over $30,000 in cash and prizes plus A-list executive meetings and mentorship. Winners and finalists have had their screenplays optioned and produced and have secured high-profile representation as well as lucrative writing deals.
"The contest is a great stepping stone for emerging writers. We're honored to champion them," Liz Alani, Big Break contest director says.
The event will take place on Thursday, October 23rd at the Knitting Factory in Hollywood, CA from 7:30-11PM. In attendance will be A-list writers, reputable industry executives and Final Draft, Inc. business partners and friends.
About Final Draft, Inc.
Final Draft, Inc. was founded in 1991 to develop a scriptwriting program that allows the writer to concentrate on the creative process and not on Hollywood's stringent formatting rules. Since then, Final Draft software has become the Hollywood professional's choice and the world's #1-selling scriptwriting program.
In September of 2006, Final Draft, Inc., acquired Script® magazine and its ancillary services. The mission of both companies, now joined as one independent company, is to educate, advance and celebrate the scriptwriter with a suite of offerings that now includes software, services, publications and events.
For more information about Final Draft, Inc. and its products and services, visit http://www.finaldraft.com.
###