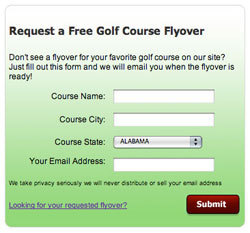 We want the community to tell us what they want, rather than trying to guess
San Diego (PRWEB) October 29, 2008
CourseIQ.net has put its visitors in the drivers seat when it comes to determining which golf course flyovers should appear on its website. The site's new "Request a Free Flyover" feature allows visitors to essentially direct the CourseIQ production team by entering the name and city of the golf course in a form on the home page. The site can be viewed at CourseIQ.net
"We want the community to tell us what they want, rather than trying to guess," said Frank Jensen, CEO of BinaryLabs, the site's parent company. "We have developed software tools and devised a semi-automated process that allows us to respond quickly to requests for golf course flyovers."
The response to the new feature has been dramatic. "Our traffic increased by a factor of 100 after we launched the free flyover feature," said Marc Rosete, CourseIQ's producer. "We have been getting requests at the rate of more than one per minute for hours at a time, and our visitors are dwelling on our site after they make the request. Our pages-per-visit and average time on site have increased well above industry averages" said Rosete. A list of recently added courses can be viewed at http://www.courseiq.net/golf-course-list.aspx
The flyovers include a course-by-course comments feature that allows players to share questions and commentary about how best to play each hole on the course.
"Putting our visitors in charge of directing our flyover production efforts is a win-win," said Jensen. "Our audience gets what they want, which in turn serves to increase site traffic and customer good will. We look forward to continuing to innovate and serving our audience with relevant and timely solutions."
For additional information, please contact Frank Jensen, CEO.
About BinaryLabs, Inc.:
BinaryLabs, established in 1993 in San Diego, CA, is a leading developer of educational and informative applications. Clients include The Golf Channel, McGraw-Hill, Fisher-Price, Pearson Learning, and the State of California. For more information, please visit http://www.BinaryLabs.com.
###