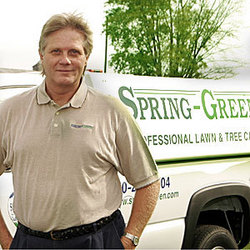 If you are getting browning on the outside and it's on one side - the windward side - that's what you want to be concerned about
Plainfield, IL (PRWEB) October 21, 2008
Homeowners and property managers looking for ways to prevent evergreen desiccation, and other end of season lawn problems, will find solutions in the new installment of Spring-Green's popular podcast series, Lawn Talk.
Tim Kauffold hosts the program, which is a series of conversations with lawn care professionals. This latest installment focuses on preventing conifer desiccation, eliminating bag worms, and properly preparing landscape beds for the winter months. Harold Enger, Spring-Green's Director of Training and Support, is the featured guest. Enger has worked in the lawn care industry for over 30 years and is a certified turfgrass and ornamental landscape professional.
Among Enger's many tips, he recommends an anti-desiccate for evergreens showing the telltale signs of drying. "If you are getting browning on the outside and it's on one side - the windward side - that's what you want to be concerned about," he explains. "You may want to get an anti-desiccant sprayed on them."
Enger recommends contacting your local Spring-Green lawn care professional for anti-desiccate application. And for those in southern climates, he reiterates the importance of winter weed control. No matter what the issue, Enger warns to use the right lawn care product at the right time. To learn more about desiccation and other end of year lawn maintenance tips, listen to Spring-Green's Lawn Talk Podcast.
About Spring-Green
Founded in Naperville, Illinois, in January 1977, Spring-Green has been beautifying neighborhood lawns for over 31 years. Today, the Spring-Green organization provides lawn fertilization, weed control, tree and shrub care and other yard services to over 7,500 neighborhood communities around the country. Visit Spring-Green.com to find your neighborhood Spring-Green lawn care professional. Call today and receive a free lawn care service quote.
###