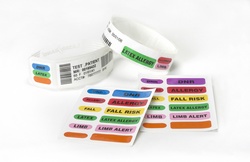 Many hospitals with color-code standards are selecting LaserBand Spot Alerts because they correspond with green initiatives, can be used with all wristband types, and can be applied directly next to main patient information (name, doctor, medical record number, account number, barcode, etc.) for further risk reduction
ST. LOUIS (PRWEB) October 20, 2008
LaserBand has worked with statewide patient safety groups, including the Missouri Center for Patient Safety, the Ohio Patient Safety Institute, and the New Hampshire Foundation for Healthy Communities, to offer color-code wristbands for hospitals and other health care organizations denoting special patient conditions of DNR, allergy, fall risk, latex allergy, and limb alert: the LaserBand® Spot Alerts. The Spot Alerts are specially-engineered markers that are directly applied to an existing patient wristband and come in several sheet formats, thus containing costs and creating little to no waste. Community Health Systems (CHS), a leading operator of general acute care hospitals, also recommends LaserBand Spot Alerts to all of its facilities to eliminate separate color-code wristbands and plastic color clips that consume time and resources. Spot Alerts work with all wristband types (whether laser, thermal, or plastic, with or without holes), allowing for quick implementation.
"Many hospitals with color-code standards are selecting LaserBand Spot Alerts because they correspond with green initiatives, can be used with all wristband types, and can be applied directly next to main patient information (name, doctor, medical record number, account number, barcode, etc.) for further risk reduction," states Melissa Roessler, Director of LaserBand's color-code group.
LaserBand's color-code wristbands also include the following options:
LaserBand® Wristband Alert (made with Tyvek®) enhances patient care by using adhesive fasteners rather than snap closures that may lead to patient discomfort, create choking hazards, or harbor bacteria that may progress into an infectious disease. LaserBand® Slim Alert wristbands offer durability and security. ComfyCurve™ wristbands accept printed, embossed, or handwritten labels. LaserBand's Wristband Alert, Slim Alert, and Spot Alert products come pre-printed to identify patient condition alerts (DNR, allergy, fall risk, latex allergy, and limb alert); blank versions are also available.
About LaserBand LLC: LaserBand LLC is the leading global provider of patient identification wristbands and wristband technology that health care organizations use to improve patient safety. LaserBand offers the only cross-platform product line that works with hospitals' existing patient ID technology at any level – from handwriting or embossing to bar coding, thermal imaging, and laser printing.
For more information, please visit http://www.laserband.com.
MULTIMEDIA GALLERY http://www.businesswire.com/cgi-bin/mmg.cgi?eid=5808575