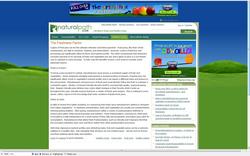 The AdCamo solution goes far beyond the typical site re-skin
San Francisco, CA and Scottsdale, AZ (PRWEB) October 21, 2008
NaturalPath Media, the largest and fastest growing media network for the sustainability and healthy lifestyle vertical markets, announced the introduction of site background ad units powered by AdCamo. By utilizing the AdCamo platform, NaturalPath Media now offers advertisers the opportunity to run site background ads - also known as site skins - across its entire network of over 100 sites.
The AdCamo platform offers numerous advantages over standard static site skins. The entire background ad is clickable and can be served in conjunction with IAB standard ads, offering advertisers increased engagement and conversion. Additionally, the trackable units provide advertisers detailed reporting as to the number of unique impressions and clicks delivered NaturalPath Media also offers advertisers a brandable cursor, which utilizes a custom creative image that serves as the cursor when a user runs a mouse over the background ad.
"The AdCamo solution goes far beyond the typical site re-skin," said Richard Rocca, Senior Vice President of Sales & Business Development for NaturalPath Media. "AdCamo's technology provides a scalable platform for us to deploy across the largest reach of sustainability and healthy lifestyle sites, providing a trackable, high impact unit for our advertising partners."
The AdCamo background unit will be available on select NaturalPath Media sites including Gas2.org, EcoRazzi.com, WebUrbanist.com, DrGreene.com, GreenUpgrader.com, Mongabay.com, PriusChat.com, Terrapass.com and TheDailyGalaxy.com. The units may be targeted by geography and daypart and can be frequency capped to ensure maximum impact.
About NaturalPath Media
With over 100 publishers and a combined reach of over 20 million monthly unique visitors, NaturalPath Media is the largest and fastest growing media network for the sustainability and healthy lifestyle markets. NaturalPath Media connects publishers, advertisers and audiences by selling customized brand advertising programs to companies that seek to reach affluent and influential conscious consumers. Headquartered in San Francisco, NaturalPath Media represents leading websites such as DrWeil.com, Grist.org, EcoGeek.org, YogaJournal.com, Mongabay.com, CleanTechnica.com, Wellness.com, Matador Network and ZenHabits.net and selects and distributes the best of sustainable, wellness and values-driven content through NaturalPath.com, its publisher hub. For more information about NaturalPath Media, please visit NaturalPathMedia.com.
About AdCamo
AdCamo is the world's first background advertising platform, enabling publishers and advertising networks to provide brand advertisers with compelling creative executions across an unlimited number of websites. To learn more about AdCamo and our background ad formats please visit AdCamo.com.
###