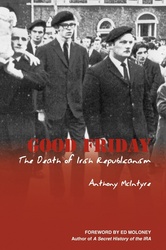 Independent publishers should be encouraged by this
New York, NY (PRWEB) October 21, 2008
Almost six weeks after Good Friday's publication most booksellers in Ireland, North or South, were telling their customers they were out of stock or that Good Friday was not available at all. Yet hundreds of copies sat in the publisher's warehouse. According to publisher Aoife Rivera Serrano "McIntyre's controversial critique of the Good Friday Agreement and the Irish peace process--not the peace but the process--were behind the blacklisting of Good Friday, though many stores in Ireland told me that it was our location in New York City that prevented them from stocking the book." So why is Ausubo Press celebrating?
Two weeks ago Rivera Serrano reached an agreement with John Manning, the Director of Distribution for Gill & Macmillan Ltd. Rivera Serrano explained, "Booksellers from Dublin to Belfast to London can now order Good Friday from Irish distributor, Gill & Macmillan. Irish customers who have been clamoring for the book and writing to Ausubo Press asking where they can buy Good Friday can now call upon any book shop on the island where fine books are sold."
"Independent publishers should be encouraged by this," the publisher added. "There are still distributors who can use their literary judgement while still keeping an eye on the bottom line. Once John Manning read the book he clinched the deal with Ausubo Press."
Robin Gourley, Dublin Stock Manager for Eason, can now fill the requests of Eason store managers trying to obtain the book for customers who come in expecting to find Good Friday: The Death of Irish Republicanism on their shelves.
Trevor Proctor from the Eason store on Donegall Place in Belfast told the publisher he had many customers regularly coming in for the book, but he thought the book was not available. Proctor was very pleased when Rivera Serrano phoned him to say she had called stocking boss Robin Gourley to tell him Good Friday was being distributed by Gill & Macmillan.
The first cartons of books arrived at the Gill & Macmillan Dublin warehouse on 14 October 2008. The distributor is ready to fulfill orders from anywhere in Ireland and the United Kingdom.
Booksellers interested in stocking Good Friday: The Death of Irish Republicanism should call +353 1 500 9500, fax +353 1 500 9599, or write to sales @ gillmacmillan.ie .
For customers who want their copy autographed by Mr. McIntyre they can do so from 6 to 8 pm at the Linen Hall celebration on 5 November. Anyone planning to attend the event should rsvp to publicity @ ausubopress.com before 29 October.
Ausubo Press is an independent multicultural publishing company. It is one of several publishers in the United States producing books in more than 2 languages. In addition to Spanish and English, their first Irish title will be published next year. Ausubo Press is playing a small role in raising global consciousness about the need to protect any culture's greatest treasure: their language.
Contact:
William Cadiz
(+1)917.573.6858
###