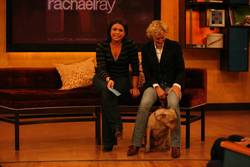 We are very excited about the potential for Charitable Shops to benefit these animal charities
New York, NY (PRWEB) October 20, 2008
Unlike some of the characters she has played in the movies, Glenn Close is a life-long animal lover who enjoys a passionate relationship with her dogs, Jake and Bill.
Glenn recently visited the "Rachael Ray Show" (Airing October 21--for local listings, please visit Rachael Ray) and the two women talked about their shared love of the four-footed animals (i.e. dogs) along with their mutual determination to promote both dog fostering and dog adoption as means of saving the many canines who are abandoned across the country.
The television show features video of Glenn fostering a dog in need of adoption, Sweet Pea (a female Vizsla Pit Bull mix) and covers issues involved in fostering a dog to raise awareness during The American Humane's Adopt-a-Dog month.
Glenn is co-founder of FetchDog, an on-line resource for dog lovers providing not only quality dog supplies, but also expert information on dogs and puppies and dog adoption.
As a companion to her dog blog on FetchDog.com "Lively Licks: Profiles of Dogs and their People,", which features interviews with her dog-owning friends, Glenn launched the Charitable Shops earlier this year. The blog gives readers a glimpse into just how deeply her interview subjects care about their pets. The Charitable Shop allows the interviewees a chance to name and support a favorite animal charity through FetchDog purchases. Among the famous dog-lovers featured in the blog have been Ted Danson and Mary Steenburgen (whose Charitable Shop benefits Little Angels Pug Rescue) and Debra Messing and Dan Zelman (whose beneficiary is Animal Rescue New Orleans).
Glenn is thrilled to combine forces with Rachael Ray to create a charitable shop on FetchDog.com benefitting The Picasso Fund of the Mayor's Alliance for New York City's animals in need. The Fund provides medical care for animals who might otherwise be euthanized. The Rachael Ray Charitable Shop features more than 8 products personally selected by Ray ranging from design-award-winning dog bowls to earth friendly dog toys. When shoppers make a purchase from Ray's page, 6 percent of everything they spend on FetchDog.com is donated to the Picasso Fund.
"The Alliance is thrilled with the relationship we are developing with Glenn Close and fetchdog.com," says Jane Hoffman, President Mayor's Alliance. "Glenn's efforts to make people aware of the wonderful shelter animals just waiting for homes through her Lively Licks blog on fetchdog.com and her visits to the NYC Animal Care & Control shelter, which will air on the hugely popular Rachael Ray Show was an amazing gift from both these very talented ladies."
"We are very excited about the potential for Charitable Shops to benefit these animal charities," says Gretchen Kruysman of FetchDog. "This is feel-good shopping at its best. You get great products for your dog and support a worthy cause at the same time."
"And, as one reader commented about Glenn's latest blog: 'What connects us--the famous and the not--is our love for our animals.'"
For more on Glenn's Blog, Lively Licks visit fetchdog.com/livelylicks to read her frequent posts and subscribe to her emails.
For more on the "Rachael Ray" daytime tv talk show visit Rachael Ray Show
And for more on the Picasso Fund of the Mayor's Alliance, visit animalalliancenyc.org
# # #