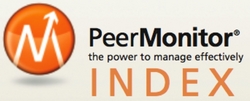 In the same manner that stock market indices measure the performance of financial markets, PMI tracks the performance of the legal profession along key metrics, providing critical market trend analysis
Eagan, Minn. (PRWEB) October 21, 2008
Amidst rising concern and uncertainty about the economy, the Peer Monitor Economic Index (PMI) from West provides actionable, timely information on the law firm market that helps firms make informed law firm management decisions. PMI is an at-a-glance composite of core legal industry drivers of firm performance, featuring real-time data and insight regarding changes in law firm profitability across local and national marketplaces and by practice areas.
This first-of-its-kind index measures the performance of law firms across the U.S., as well as in several international markets, across five key metrics: demand, productivity, rates, direct expenses and overhead expenses. Each quarter, PMI issues a composite score that reflects the overall strength and direction of the legal market, providing a key law firm management strategy tool.
"Now more than ever, managing partners and CEOs need timely data that can help drive strategic decision-making for law firm strategy," said Mark Medice, National Manager, Peer Monitor. "Unlike other reports and surveys that can lag market conditions by up to several months, PMI provides real-time data that allows firms to see how they are faring against current market trends in the nation, in specific markets or within given practice areas. In addition, PMI's flexibility provides specific, actionable information that can drive informed decisions as firms deal with issues such as staffing levels, compensation and opening new office locations."
"In the same manner that stock market indices measure the performance of financial markets, PMI tracks the performance of the legal profession along key metrics, providing critical market trend analysis," said Medice.
PMI is based upon the powerful analytic capabilities of Peer Monitor, which provides law firms with specific benchmarks of firm metrics against defined groups of peer firms. Comparisons can be made across geographies, practice areas or down to the individual timekeeper level.
For the first nine months of 2008, PMI has reported sluggish industry growth, and falling law firm demand and productivity. Firm billing rates have been holding firm, while expenses are high but moderating. Law firm hiring has slowed, helping firms keep expenses in check. The third quarter of 2008 showed a sharp drop in demand, with practice group strength in the traditional counter-cyclical practice areas, like Bankruptcy and Labor & Employment.
For more information about the PMI and to review the latest PMI report, visit http://peermonitor.thomson.com. A brief video explaining PMI and its usefulness for law firms can be found here.
About West
Headquartered in Eagan, Minn., West is the foremost provider of integrated information solutions, software and services to the U.S. legal market. West is part of Thomson Reuters. For more information, please visit the West Web site at west.thomson.com.
About Thomson Reuters
Thomson Reuters is the world's leading source of intelligent information for businesses and professionals. We combine industry expertise with innovative technology to deliver critical information to leading decision makers in the financial, legal, tax and accounting, scientific, healthcare and media markets, powered by the world's most trusted news organization. With headquarters in New York and major operations in London and Eagan, Minn., Thomson Reuters employs more than 50,000 people in 93 countries. Thomson Reuters shares are listed on the New York Stock Exchange, Toronto Stock Exchange, London Stock Exchange and Nasdaq. For more information, go to http://www.thomsonreuters.com.
# # #