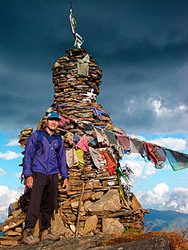 These Sacred Journeys are unique travel experiences because of the local knowledge and familiarity of the spiritual teachers who guide them
Red Feather Lakes, CO (PRWEB) October 22, 2008
Shambhala Mountain Center, a world-renowned meditation and yoga retreat, has unveiled its "Sacred Journeys Spring 2009 Travel Program". Three distinct trips to the Himalayas and Southeast Asia provide travelers with insight into a variety of spiritual and Buddhist traditions still alive and practiced today. The three Sacred Journeys are: Vietnam & Cambodia, February 12 - 27, 2009; Bhutan's Enlightened Environment, April 3 - 17, 2009; and Trekking in Nepal with Views of Mt. Everest, April 14 - 27, 2009. The Sacred Journeys are open to people from all beliefs and are guided by renowned Shambhala authors and spiritual teachers. Each trip is designed for the traveler to see the world from a local perspective and to experience self-discovery through lectures, discussions and daily meditation.
"These Sacred Journeys are unique travel experiences because of the local knowledge and familiarity of the spiritual teachers who guide them," commented Brian Spielmann, director of marketing at Shambhala Mountain Center. "Travelers on our Nepal journey will spend a day visiting the village where the guide, Pemba Sherpa, grew up and share a meal with his family."
Sacred Journeys in spring 2009 include:
Vietnam & Cambodia: Sacred Sites & Practices - Yoga and Meditation
February 12 - 27, 2009 Guided by Susan Piver and Dana Young
This Sacred Journey will explore Indochina's most magnificent sites and cities, including the shrines at the Perfume Pagoda, the hidden alleys of Hanoi's Old Town, the ruins at My Son and the Grand Temple of Angkor. The highlight of the trip is practicing yoga and meditation at the Six Senses Spa in Nha Trang. Cost: $5,880 (includes airfare from Los Angeles)
Bhutan's Enlightened Environment: Traditional Beliefs & Spiritual Ecology
April 3 - 17, 2009 Guided by Sangay Wangchuk and Nick Egan
This Sacred Journey will explore the connection between natural forces and spirituality. With the Himalayas as our backdrop, we will visit power places with traditions going back hundreds of years, exploring how the elemental forces of nature are interrelated and how they can be harnessed to support our own spirit. Cost: $6,290 (includes airfare from Los Angeles)
Trekking in Nepal: Glimpses of Mt. Everest
April 14 - 27, 2009 Guided by Pemba Sherpa
This Sacred Journey will take you deep into the heart of the Himalayan Mountains. You don't need to be a world-class climber to join this trip. Travelers with a sense of adventure, in good physical condition, and some hiking experience are welcome. We will walk through the renowned Khumbu region on our monastery trip; partake in Nepalese and Tibetan cultures as they have existed for centuries in "The Land of the Sherpa"; and marvel at close up views of Mt. Everest. Cost: $2,890 (does not include airfare)
About Shambhala Mountain Center
Shambhala Mountain Center is a six-hundred acre sanctuary of forest, gentle meadows, and sweeping valleys just under two hours northwest of Denver in Red Feather Lakes, Colorado. This rural setting provides an ideal environment for meditation, yoga, retreats, and conferences. The center is open to people from all walks of life and spiritual beliefs. It is a place where one can explore their basic human nature of goodness by learning practices that encourage mindfulness in daily life. Shambhala Mountain Center also provides opportunities for all Buddhist practitioners to deepen their understanding and experience of the Buddhist spiritual path. The center is also home to The Great Stupa, one of the most significant examples of Buddhist sacred architecture in the world. More than 5,000 people visit The Stupa every year. Constructed by volunteers over a 17-year period, it is filled with original art and sculpture that preserve the endangered cultural heritage of Tibet. This inspiring monument is dedicated to peace, wisdom and compassion. Shambhala Mountain Center is affiliated with Shambhala International, a worldwide network of urban meditation centers and rural retreats. For more information about Shambhala Mountain Center, visit http://www.shambhalamountain.org.
###