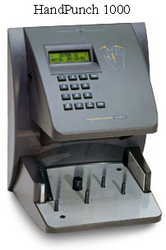 The HandPunch 1000 was designed specifically to allow the many small businesses in America and around the world to utilize an affordable field-proven technology that will help them efficiently manage their workforce and lower their payroll costs
Franklin Square, NY (PRWEB) October 22, 2008
The HandPunch 1000, a hand recognition time clock, is being used by thousands of small companies across the country to help them better manage the time tracking of their labor forces. HandPunch Guys LLC specializes in helping them implement the device, which is used in conjunction with their industry-leading time and attendance software programs.
The clock works by verifying a person's hand geometry, which is simply the size and shape of their hand. This process is quick and easy, as it takes less than a second. The main benefit is that it virtually eliminates time theft in the form of "buddy punching". This is a type of payroll fraud where one employee clocks in or out for another.
"The HandPunch 1000 was designed specifically to allow the many small businesses in America and around the world to utilize an affordable field-proven technology that will help them efficiently manage their workforce and lower their payroll costs," says company president Will Horan.
The handreader interfaces with a computer, on which a special software program is installed to collect the data. The application enables supervisors to view detailed reports in a variety of formats that will allow them to make well-informed decisions. It can also track benefit time, such as sick, vacation, holidays, personal days, among many others.
Another benefit to this particular form of biometric verification is that there are no privacy issues. The clock does not read fingerprints or palm prints and the technology has never been reverse engineered to identify people.
The HandPunch 1000E is similar to the 1000 model, except that it can use an Ethernet connection as opposed to a direct serial or modem connection. Other models that are available are the HandPunch 3000, HandPunch 2000, and HandPunch 4000. The particular model that is ultimately chosen depends on a variety of factors such as the number of employees, communication options, and whether extra functionality is needed such as department or job transfers.
The company offers more information on their website at or they can be reached by phone at 516-414-1290.
###