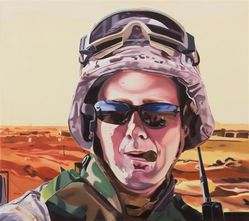 When my brother returned from Iraq he said he went to a mall and it was as if the average person didn't even realize that there was a war
Minneapolis (PRWEB) October 23, 2008
With surreal beauty and deliberate ambiguity Megan Rye's paintings encourage viewers to see the Iraqi War through the eyes of those who've witnessed it firsthand. Her works in "Long Night's Journey into Day" explore her ongoing fascination with images taken primarily by her brother, Ryan Nosek, while stationed in Iraq as a U.S. Marine. Rye has based her work off her brother's archive of more than 2,000 photographs since 2005, the year he returned from duty.
"When my brother returned from Iraq he said he went to a mall and it was as if the average person didn't even realize that there was a war," explains Rye in response to why her work focuses on such a controversial subject. "I have been asked, 'Why paint the war? It's all around us on the TV and in the newspapers.' But when you go to an art gallery, it is a very specific place, a place of contemplation where all other distractions fall away, there is only you and the subject matter. I want to create that space where people can think about and come to terms with their own feelings about the war."
At times Rye combines, manipulates and transforms the original photographs to create paintings that blur the lines between abstraction and realism. In other instances her intricately detailed and precise renderings are more faithful to the original image. It can take the artist up to three months to complete a single large-scale painting.
In preparing for "Long Night's Journey into Day" Rye spent more than a year working on the collection of almost 20 paintings and smaller scale studies that will be showcased in the solo exhibition which opens Nov. 14 at the Chambers Burnet Gallery.
"Megan Rye's work has a strange fascination," explains Ralph Burnet, Chambers' owner and a collector of Rye's work. "The sheer size and scale of Megan's paintings draw attention to the war and its importance as an issue that we need to be thinking about -- without telling us what to think - that enigmatic quality is mesmerizing and underscores her talent as an artist. She's taken something that by its very nature is raw, ugly and emotional and turned it into something that is thoughtful and beautiful. It's amazing."
The opening reception for "Long Night's Journey into Day" is 6 to 9 p.m., Nov.14, and the public is welcome. The show runs through Jan. 11, 2009. Admission is free. Gallery hours are 11 a.m. to 9 p.m. daily.
Megan Rye
Megan Rye is represented by Forum Gallery in New York City and Los Angeles. She received her BFA in Painting from the Rhode Island School of Design in 1998, and went on to complete her MFA in Painting at the University of Minnesota. In 2005 she attended the Skowhegan School of Painting and Sculpture. Rye is the recipient of a 2008 McKnight Foundation Fellowship; 2007 and 2004 Minnesota State Arts Board Grants; and the 2005 Jerome Foundation Fellowship. Her work is included in private collections across the country. In 2007 her first solo exhibition, "I Will Follow You into the Dark" was held at the Minneapolis Institute of Arts in Minnesota.
Burnet Gallery
The Burnet Gallery is located in Chambers, a luxury art hotel featuring more than 200 pieces of original contemporary art throughout the public areas as well as the hotel's 60 guest rooms. Located at 901 Hennepin Ave., Minneapolis, Minn., it offers a unique combination of art, culinary, design and a true boutique hotel experience. For reservations, call: 612-767-6900 or visit: http://www.chambersminneapolis.com.
###