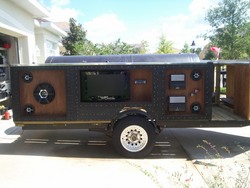 (Vocus) October 22, 2008
Charlottesville, VA October 22, 2008 -- With his 17-foot barbecue trailer now sporting a flat-panel TV and a monstrous audio system, Michael Seville tempts many a Tampa Bay Buccaneers fan to miss the opening kickoff.
When he heard about Crutchfield's "You Dream It, We'll Help You Built It - Taligate Dreams™" contest Michael, a resident of Deland, Florida, knew he had the perfect excuse to knock the rust off of the barbecue trailer he inherited from his father. For years, the trailer was a big part of his family's concession business, but it had been sitting idle for quite some time.
Entrants were challenged by the Crutchfield team to submit the most unique idea for a tailgate entertainment system using the world-class A/V gear currently available for purchase at http://www.crutchfield.com. Michael was pleasantly surprised to learn that he had been selected as a finalist, but then reality set in. To win the grand prize, he would have to build the system and submit photos within four weeks.
"I went to work quickly and quickly found out I was in for much more than originally planned," Michael said. "The trailer was pretty much full of rotten wood and would have to be rebuilt from the ground up. My good friend John really stepped up and helped me tear into the project. After completely removing the wood, we had another surprise waiting for us. A 3-foot section of the frame had significant rust and would need some welding before we could begin the build up! urggg!"
After many late nights and long hours Michael and John finally had everything together and cranked it up on the day of the deadline.
"WOOHOO! I can't begin to tell you how happy I am with the end result." Michael said. "The system sounds amazing! The picture on the Samsung TV is even better than expected."
Fan reaction to the trailer has been "consistently jaw-dropping," he said. "! I love the look on the faces of people who see it. I even had a buddy bring me a whole beer tap set-up and say, 'Here you go! This thing calls for a beer tap.' "
The winning entry embodies the spirit of creativity and innovation Crutchfield's customers and staff exude day in and day out, said Doug, Michael's advisor at Crutchfield. "It's clear that Michael's put a tremendous amount of time and effort into this project -- and it's paid off."
The system includes a Samsung TV, a Valor DVD receiver with iPod® control, Polk Audio speakers and Alpine amplifiers.
Bruce Feldman, Senior Writer for ESPN The Magazine and the author of Meat Market: Inside the Smash-Mouth World of College Football Recruiting judged the contest. He selected the two finalists from among over 500 eligible entries and then chose the winner after looking at photos and videos of the installations.
The two finalists each won the products selected in their entry, along with access to Crutchfield Product Support Specialists to help them execute their described installation. Michael Seville, the grand prize winner, took home an additional $1,000 Crutchfield gift card.
The runner-up is Scott Handel of Whitehouse Station, N.J., a Rutgers football fan who outfitted a 21-foot 1992 Bluebird Bus with a TV, audio system, and a scarlet paint job.
Crutchfield will be running new versions of the "You Dream It, We'll Help You Build It" contest in the coming months. A Holiday Dreams™ contest is underway now. Details on future contests will be announced on Crutchfield.com.
About Crutchfield
Crutchfield, which celebrates its 34th anniversary in 2008, is one of the nation's leading catalog and Internet retailers of consumer electronics products. Since its introduction in 1974, the Crutchfield catalog has been a respected authority on car and home entertainment products, winning many awards for quality, design, and usefulness. The people who staff Crutchfield's call centers are noted for their high integrity, product knowledge, and technical expertise. Crutchfield.com offers a full-service shopping destination to buyers of car and home audio/video products. Crutchfield was the first vendor-authorized audio/video retailer on the Internet and is one of only two retailers to have won BizRate's coveted "Circle of Excellence" award nine times.
# # #