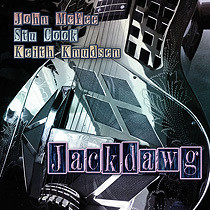 Los Angeles, CA (PRWEB) October 22, 2008
Sonic Past Music releases Jackdawg. - The never before released recordings of a trio consisting of Doobie Brothers / Clover guitarist John McFee, Creedence Clearwater Revival bassist Stu Cook, and long time Doobie drummer, the late Keith Knudsen. Available at Sonicpastmusic.com
This is earthy, creative, truly innovative rock at its finest - the music itself was the only goal here, which is perhaps why it has taken so long for these recordings to become available to the listening public. You can hear the fun in the music, and almost all the material was written by the three members together. The only "outside" songs are Jackdawg's swampy renditions of Roky Erickson's haunting Cold Night For Alligators and Van Morrison's classic Wild Night. Even these two songs are close to home for the lads, as Stu produced Roky's original version of Alligators and John played on Van's original hit version of Wild Night. This album was recorded in the late '80s and the first of the '90s, the songs and the playing epitomize what a contrast a REAL band, who actually write, play, and sing on their own recordings makes to so much of the plastic, pre-fab offerings of today.
Relevant Trivia

Jackdawg was a project that naturally evolved out of the dissolution of country rock band Southern Pacific, whose core lineup included John, Keith, and Stu plus keyboardist Kurt Howell (who went on launch a career as a successful solo artist, producer, and songwriter.)
John and Keith were both long time touring and recording members of legendary Japanese artist Eikichi Yazawa's band during the years of the Jackdawg sessions.
###