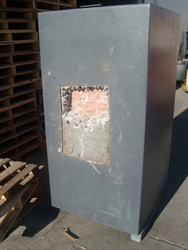 Even with all of their tools and the time they had, the thieves still couldn't get into the safe.
Moreno Valley, CA (PRWEB) October 23, 2008
Not all safes are created equal and the thieves responsible for the attempted burglary of a jewelry store in a Moreno Valley indoor swap meet can attest to that. Burglars entered a vacant building through the roof next door to where the jewelry store's safe was located. They then proceed to cut a hole in the wall to gain access to the back of the safe and then spent an estimated 6 hours trying to force their way into the safe.
"From the looks of the safe, it looks like they used a grinding saw, a large impact hammer drill, and other tools to break into the safe", said Justin Maloney, the service manager with SoCal Safe Company in Montebello, CA. "Even with all of their tools and the time they had, the thieves still couldn't get into the safe."
The thieves were attempting to enter one of the strongest safes on the market today. It is a U.L. Listed TRTL 30x6 safe sold by SoCal Safe Company. The safe has passed one of the most stringent tests conducted by Underwriters Laboratories today. "This is the safe you want if you really want to protect your valuables, whether that is in a jewelry store, a pawn shop, or anywhere you have to store expensive valuables", said Mr. Maloney. "I've even seen some homeowners purchase this type of safe to protect their personal jewelry collections."
The owner of the store, Mr. Steve Hyun, who purchased the safe from SoCal Safe Company, said, "The safe saved my business. Many jewelers will buy less expensive safes to save a little money in the beginning, but I am glad that I didn't. I believe that if I had purchased a lesser rate safe, I would have lost everything." The attempted burglary happened on Monday, October 13, 2008, but these brazen thieves attempted to return to the scene on Tuesday, but the police came before anything else could happen. The suspects fled before any arrests could be made.
Should you like more information on the burglary, the safe that was used, or finding the right safe for your business, please contact SoCal Safe Company at (800)334-6060.
###