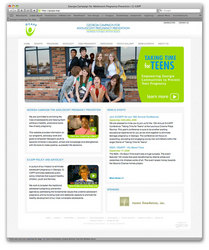 Creating awareness on the Internet is a high priority for G-CAPP to help get the message out as well as aid in fundraising efforts
Atlanta, GA (PRWEB) October 22, 2008
Georgia Campaign for Adolescent Pregnancy Prevention (G-CAPP) is pleased to announce the launch of it's new G-CAPP (http://www.gcapp.org) website.
The most recent data from the Centers for Disease Control (CDC) reports a 3 percent increase in teenage birth in Georgia. This suggests that the decade of progress in Georgia that produced a 27 percent drop in teen pregnancies has stagnated and/or reversed. Georgia now ranks 7th highest teen birth rate and 2nd highest repeat teen birth rate in the nation.
"Creating awareness on the Internet is a high priority for G-CAPP to help get the message out as well as aid in fundraising efforts", states Jane Fonda, Chairman and Founder of G-CAPP. "The new website provides the opportunity to engage with G-CAPP through multiple channels including: e-newsletter, social networking sites, online giving, events, and volunteer opportunities. There are resources for youth, parents and adolescent service providers along with Research, Fast Facts about Teen Pregnancy, and County Data. Cutting-edge programs that promote the development of healthy children and families such as the Community-Based Doula Project, Second Chance Homes Network, and the Carrera Adolescent Pregnancy Prevention Program are also featured on the G-CAPP website. We are very pleased with new look and functionality of the website and look forward to getting more people aware and involved".
"We chose Drupal as the CMS engine for G-CAPP due to the power and flexibility of the platform", stated Fred Tanzella, CEO of Glick Interactive, the developers of the G-CAPP website. "The active community as well as our expertise in Drupal Module development made it an excellent choice to be able to help G-CAPP get to market quickly with a new look for G-CAPP, while providing an intuitive interface for users to navigate the site and experience all that G-CAPP has to offer. To help in the social networking aspect of the site, we also created MySpace and Facebook pages along with a Facebook Cause to reach the younger Internet user demographic and allow those users to donate to G-CAPP on websites they frequent. The G-CAPP website is hosted at Colocube in their Atlanta data center using Managed Hosting for Drupal."
About G-CAPP
The Georgia Campaign for Adolescent Pregnancy Prevention (G-CAPP) is a non-profit organization founded by Jane Fonda in 1995. G-CAPP's mission is to eliminate adolescent pregnancy in Georgia by developing, establishing and supporting ideas and program innovations that build local and statewide capacity to promote the healthy development of our most vulnerable adolescents. For more information about G-CAPP visit: http://www.gcapp.org.
About Glick Interactive
Glick Interactive is an Atlanta based web development and design firm that leverages the latest Internet and interactive technologies to make our clients successful. Glick builds high-volume, high transaction websites and enterprise applications for Fortune 500 companies as well as well-funded web 2.0 start-ups. Glick Interactive has won multiple awards including the Web Marketing Association's 2008 WebAward. For more information about Glick Interactive, visit: http://www.glickinteractive.com.
About Colocube
Colocube is an Atlanta-based hosting firm specializing in high-performance IT hosting with a global presence. Colocube is carrier-neutral and offers the richest connectivity and dedicated service options in the most secure and reliable Atlanta colocation facilities for our customers' mission critical operations. Colocube has grown to be one of the most respected high performance hosting companies in the industry serving a global customer base. Colocube has partnered with premier companies that are leaders in their respective industries to provide best in class service to our customers. For more information about Colocube, visit http://www.colocube.com.
###