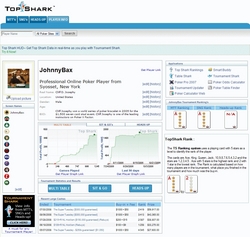 Burlingame, CA (PRWEB) October 23, 2008
Poker Pro Labs, the creators of such unique online poker software as Tournament Shark and Smart Buddy, announce several new additions to their innovative free product Top Shark, which provides up to date online poker rankings, complete online tournament and sit n' go results, and statistical breakdowns.
"We have added a "Player Info" section to Top Shark," said Alex Iosilevsky, CEO of Poker Pro Labs, "now online poker players such as Cliff JohnnyBax Josephy and Annette Annette_15 Obrestadt can easily edit their real name, location, gender, age, and biography."
Poker Pro Labs has also added a complete "Tournament Results" section to Top Shark, providing detailed information for every major tournament including where players finished the tournament and the amount of money awarded to those who cashed. In addition, Poker Pro Labs is introducing the Top Shark leader board, which chronicles the yearly online player rankings for all MTT's, SnG's and Head-Up tournaments, and will ultimately result in a Top Shark Player of the Year for each section.
Top Shark is an absolutely free product, and maintains a goal of closing the gap between live and online poker by erasing the ambiguity across major poker sites. Now, you will not have to win the Poker Stars Sunday Millions for people to know who you are.
About Poker Pro Labs Inc: Poker Pro Labs is the online poker industry's leader in providing poker players with the most advanced online poker tools, services and technology.
###