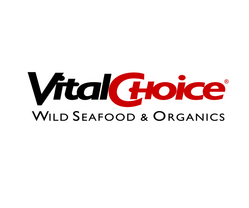 Bellingham, WA (PRWEB) October 22, 2008
Vital Choice Wild Seafood & Organics, a to-your-door provider of premium wild Alaskan salmon and other carefully selected wild, certified organic and kosher foods, today emphasized the benefits of a diet high in vitamin D from seafood such as wild salmon, one of the best dietary sources of the "sun and seafood" vitamin.
This recommendation comes as a result of last week's announcement from the American Academy of Pediatrics (AAP): children aren't getting enough vitamin D, and the daily recommended dose has doubled from 200 IU to 400 IU. According to the report, sufficient intake of vitamin D during childhood may reduce the risk of osteoporosis later in life. In adults, new evidence suggests that vitamin D may reduce the risk of infections, autoimmune diseases, cancer and diabetes.
Compared to other food sources, fish, such as wild sockeye salmon and albacore tuna, provides high concentrations of vitamin D. Each 3.5-ounce serving of Vital Choice's wild sockeye salmon provides 687 IU, while a 3.5-ounce serving of their albacore tuna provides 544 IU. Compare these to other foods commonly mentioned as Vitamin D sources: one cup of fortified milk - 98 IU, one whole egg - 20 IU, 1 oz. Swiss cheese - 12 IU. For more information on vitamin D content in Vital Choice seafood compared to other foods, visit http://newsletter.vitalchoice.com/e_article000760049.cfm?x=b11,0,w.
Vital Choice also offers adult- and kid-sized fish oil supplements made from pure, wild sockeye salmon oil. The softgels are rich in both naturally occurring vitamin D and omega-3 fatty acids, and are the first salmon oil supplements approved to carry the esteemed Marine Stewardship Council logo.
"This news from the AAP affirms Vital Choice's mission to support the well-being of our customers by providing sustainably harvested wild seafood products of superior quality," said Vital Choice founder and president Randy Hartnell. We encourage people to take advantage of the vast benefits provided by regular consumption of wild seafood and a diet rich in vitamin D."
For more information on the benefits of vitamin D and its role in a healthy diet, visit http://www.vitalchoice.com.
About Vital Choice Wild Seafood & Organics
Before founding Vital Choice in 2001, Northwest Washington native Randy Hartnell spent more than 20 years as a commercial fisherman in Alaska. Today, he is an active advocate for wild fisheries and ecological sustainability, and Vital Choice is a trusted source for convenient home delivery of the world's finest wild Alaskan seafood and organic fare. All Vital Choice foods are among the purest available and guaranteed sustainably harvested from healthy, well-managed organic farms and wild fisheries. The company's products are recognized for their superior taste and health benefits, and are endorsed by leading health and wellness experts, including physicians specializing in nutrition, pediatrics, and integrative health care.
# # #