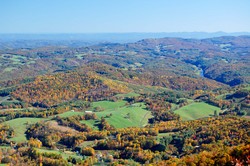 Raleigh, NC (Vocus) October 22, 2008
The NC Fall Color Guy, Professor Howard Neufeld of Appalachian State University, echoes fellow leaf watchers, saying colors will be at peak in the Asheville area and surrounding environs this coming week through next weekend. Fall colors have generally peaked at the highest elevations in the High Country; however, leaf color is still good in these parts of the state and should persist throughout the week.
If you haven't taken the drive to the mountains, you still have time! Dr. Neufeld's Insider's Tip: Trees on the drive from Boone to Charlotte on U.S. 321, are still gaining color below 2,500 feet. Similar elevations in other parts of the mountains should be expanding their fall color as well.
Check out the reports from Dr. Neufeld and leaf watchers across North Carolina at http://www.visitnc.com/fallcolor.
Looking for travel ideas? VisitNC.com launched its new "Our Colors Take You Places" (available on the http://www.VisitNC.com homepage) creative that invites website visitors to click on a colored leaf. The color of the leaf is tied to an emotion. For instance, red embraces places of passion; purple directs you to places associated with indulgence. Come see where nine fall colors take you.

Fall Fishing Reporters Say Grab a Rod and Head for the Coast
Anglers are reeling in wahoo, spot and bluefish along the Crystal Coast as puppy drum and flounder take bait in Carteret County. On the Outer Banks, yellow wildflowers cover the sand dunes while drum is reeled in from just about every beach and pier on the island. On the Wilmington/Cape Fear Coast, black fin, king mackerel, grouper and pompano are tightening lines.
For complete fall fishing reports, go to http://www.visitnc.com/fallfish.
North Carolina is the South's premier fall travel destination offering arts and culture, unique lodging, charming small towns and vibrant urban locations. Explore the highest peaks east of the Mississippi to the 300 miles of pristine coastline at VisitNC.com.
Contact:
Susan Dosier
(704) 953-9408
sdosier @ visitnc.com
Wit Tuttell
(919) 733-7420
wit @ visitnc.com
# # #