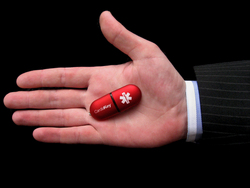 New York, NY (PRWEB) October 22, 2008
Fast access to medical records can make a difference in your medical care during an emergency. A product called CardiaKey is providing patients and doctors with that access by placing your digital medical records on a USB flash drive for them. CardiaKey was recently made available to the public through the web http://www.cardiakey.com
CardiaKey is a portable USB flash memory drive that contains digitized medical information in a universally accessible format. The device allows physicians and emergency medical personnel to access a detailed view of the patient's medical history. The healthcare provider not only can access current medication and allergy information, but they can view electrocardiograms and even view a video of a recent cardiac catheterization.
What makes CardiaKey unique is the service that is integrated into the product. Many companies offer a "do it yourself" style product that simply offers the consumer an empty storage device for them to complete. These devices can often contain errors and be viewed as an inadequate record by many hospitals and physicians. CardiaKey works with the physicians and hospitals directly to ensure an accurate and complete copy of the patient's medical data is obtained. That information is then transferred to the USB flash drive and organized in proprietary software that is universally accessible.
The drive is small enough to be attached to a user's keychain so that it may be carried with them at all times.
Patients interested in obtaining a CardiaKey can visit them on the web at http://www.cardiakey.com.
CardiaKey is a privately held U.S. Corporation
###