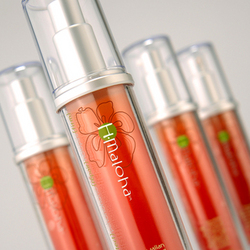 Before these models hit the runway wearing the latest in fashion, their beauty starts with the face
Holualoa, HI (PRWEB) October 22, 2008
Top fashion designers from around the globe were invited to show their collections during the 2008 Mercedes-Benz Fashion Week held from September 12 through September 16, 2008. While the runways were filled with the latest designs for the upcoming season, the fashion world was also shown the "in" look for skin care beauty from Hawaiian skin care company, H. Maloha. H Maloha was exclusively selected to launch the preeminent fashion show.
"Before these models hit the runway wearing the latest in fashion, their beauty starts with the face," said Scott Mounce, mainland marketing director for H. Maloha. "Models' appearances are scrutinized. They must showcase a designer's collection and their appearance is important, including their skin care. Whether it's for a fashion event like the 2008 Fashion Week or to ensure a successful modeling career, models know that their skin must be healthy, radiant and youthful looking. This is why H. Maloha is continually being requested at events like The Emmys, The MTV Movie Awards and Fashion Week."
H. Maloha's breakthrough face serum uses natural and organic ingredients in its serum, containing 29 botanicals, vitamins and antioxidants. The manufacturing of the serum is eco-friendly and it does not use animals in the testing of its product. The serum is 100% paraben free and contains no harsh chemicals, mineral oils, fragrances or other color additives that may harm the skin.
About H. Maloha:
H. Maloha is a natural, environmentally green, Hawaiian skin care company. H. Maloha is dedicated to sharing the skin care secrets of Hawaii with the world. They are proud to protect the Hawaiian ecosystem with safe, natural manufacturing practices and also donate a portion of all proceeds to The National Children's Cancer Society. Their bionutrient face serum can be found exclusively in the best spas in the world. To learn more about H. Maloha visit http://www.hmaloha.com or call 1.877.462.5642.
###