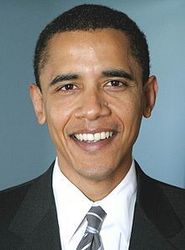 Are you a cousin of Senator/President Obama?
Fairfield, CT (PRWEB) October 24, 2008
The new President-elect Obama book, "Obama Yes We Can Hope", shows President-elect Obama ancestors in earliest America founding in 1600's the New England states of Maine, Massachusetts, and New Jersey, and in the South from Virginia to Maryland.
Obama's family also includes, as close cousins, eight U.S. Presidents including James Madison, Franklin D Roosevelt, Harry Truman, leading generals Robert E Lee, George Patton and George Marshall, as well as signers of the U.S. Declaration of Independence and Magna Carta, and Nobel prize double winner.
In Africa, the Obama family's roots in the Kenya location called the "cradle of man", the location where all men globally come from, is shown; a 500-year history of the Obama family in Kenya is given down to today; Obama's descent is shown from Adam/God; and Adamic man versus a Darwin chimp descended man is also discussed.
The Obama family includes global leaders in both Europe and the Middle East including Charlemagne, the Holy Roman Emperor of all of Europe and the King of Jerusalem; signers of the Magna Carta, the foundation document of rights for all, from which comes the U.S. Constitution and Bill of Rights; and signer Henry *Sinclair of Declaration of Arbroath, the Scot declaration of independence from England signed by Scot leaders who immigrated from Ireland via Spain back to Italy, Romans and earlier to Troy; and religious leaders in both Muslim and Christian religions and kings across Europe; and heroes as Achilles and Alexander the Great.
*See also Grail and Rossalyn Chapel owned by Sinclair family famous by Da Vinci Code, PS (Priory of Sion) and Masons.
The book also states that famous Obama cousins include six Academy Award winners, including Brad Pitt, Marlin Brando, Humphrey Bogart, Lee Marvin and Steve McQueen.
Further key descents are shown for Obama from both Jesus' Holy Grail line and from also Mohamed's line which migrated into Spain from Africa, and from the Kings of Jerusalem with Obama, a direct descendant of all three and also David and Salomon.
Is Obama the Mahde who defeats the dajjal, the Antichrist predicted by Mohamed? Or predicted by the Bible? Loved by all? Who rises from the sea (Bible) or from "beyond Cathay (China) Nostradamus? Is wounded mortally, miraculously recovers to rule three nations in the Middle East? What mark or imprint is visible? With Group of 20 approving the Obama New World Order, how long before rules globe ?
See Obama ancestors from Russia-Sweden, Ireland-Scotland, Spain and Turkey-Byzantine Empire.
See "Obama Yes We can Hope", ISBN-13: 9780595533848, ISBN-10: 0595533841. Publisher: iUniverse.com, Date: October 2008, Page Count: 176
"Are you a cousin of Senator/President Obama?" Book on Obama family available today at online book stores, amazon.com, amazon.com/kindle, bamm.com and barnesandnoble.com -- see links. Obama book links at various online book stores and online links for this book at top online book stores.
At Amazon.com, paperback:
http://www.amazon.com/gp/product/0595533841?ie=UTF8&tag=authorlecoope-20&linkCode=as2&camp=1789&creative=390957&creativeASIN=0595533841
At amazon.com Kindle/(electronic book) $9.99: 2nd edition update shortly. http://www.amazon.com/gp/product/B0016NPMB2?ie=UTF8&tag=authorlecoope-20&linkCode=as2&camp=1789&creative=390957&creativeASIN=B0016NPMB2
For Jesus Grail family Obama ancestors, see also:
"The Jesus Presidents" (Oct 2004), ISBN 0-595-66829-1, "Are you a Holy Grail family, Jesus descendant?": http://www.amazon.com/gp/product/0595333001?ie=UTF8&tag=authorlecoope-
20&linkCode=as2&camp=1789&creative=390957&creativeASIN=0595333001
"Holy Grail, Jesus descendants down to some U.S. Presidents and to some readers to today and to the Lord already here on earth judging the nations! Where is the Lord located now? See in Bible the following also: He shall see his Seed -- Isaiah 53: 10; He shall sprinkle his Seed across many nations -- Isaiah 52:15; Thus saith the Lord, the HOLY ONE OF ISRAEL, and His Maker, ask me of things to concerning My Sons." -- Isaiah 45:11.
For Mohammed's Descendants to today, including to Obama see also:
"Are You a Mohamed Descendant?": "Mohammed's U.S. Presidents" (Dec 2005), ISBN 0-595-37900-1, http://www.amazon.com/gp/product/059537901X?ie=UTF8&tag=authorlecoope-20&linkCode=as2&camp=1789&creative=390957&creativeASIN=059537901X
"Holy Prophet Mohammed's Family and descendants across the whole earth and Mohammed's descent from God's Holy family of the Middle East down to today to you and to U.S. Presidents. What descendant of Mohammed is Mohammed's prophesied Hidden Imam/Madhi that helps defeat the Antichrist now today?"
Sen. Obama's best selling books for over five years and at top now:
"Dreams from My Father", by Barack Obama: Obama history from childhood through today. http://www.amazon.com/gp/product/0307383415?ie=UTF8&tag=authorlecoope-20&linkCode=as2&camp=1789&creative=390957&creativeASIN=0307383415
"Audacity of Hope", by Barack Obama: Obama's view of the future. http://www.amazon.com/gp/product/0307455874?ie=UTF8&tag=authorlecoope-
20&linkCode=as2&camp=1789&creative=390957&creativeASIN=0307455874
"Obama: The Historic Campaign in Photographs" by Deborah Willis and Kevin Merida: http://www.amazon.com/gp/product/0061733091?ie=UTF8&tag=authorlecoope-
20&linkCode=as2&camp=1789&creative=390957&creativeASIN=0061733091
Reference:
Other books by Leon E Cooper and Sen. Obama: http://www.amazon.com/tag/author%20leon%20e%20cooper/ref=tag_ybc_ybs_itdp
Further reference President Obama website: http://www.change.gov; email President Obama at Web form: http://www.change.gov/page/s/contact
Author Leon E (L E) Cooper's resume at imdb.com; Author, atty and especially, global market expert nautonier, Ensign: http://www.imdb.com/name/nm2998240/resume
###