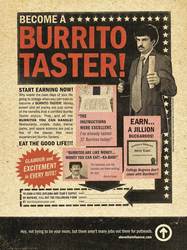 Can you handle the excitement?
Durham, NC (Vocus) October 22, 2008
- It could be said that McKinney's new effort, created in collaboration with the Partnership for a Drug-Free America for the Office of National Drug Control Policy's media campaign, "Above the Influence", could not debut at a more important time of year. According to the 20th annual Partnership Attitude Tracking Study (PATS), while teen marijuana use remains in decline, and teen social disapproval of the drug is at its highest since 1997, the number one reason teens report for drug use is coping with school stress. And the most prevalent drug of abuse among teens? Marijuana. Conducted by the Partnership for a Drug-Free America, PATS research also shows that anti-drug ads play a key role in keeping teens aware of the risks and discouraging trial.
"Back to school is increasingly stressful for today's teens," said the Partnership for Drug-Free America's Associate Director of Creative Development Caryn Pace. "Academic and social pressures, along with a desire to fit in and be cool can drive teens to cope with these stresses in unhealthy ways. We're grateful for the support of partners like McKinney to help continue our "Above the Influence" campaign, which sends powerful messages reminding teens to stay connected with what's important - family, friends and how they feel about themselves." The fully integrated campaign will first launch with the print component in November publications, including Transworld Snowboarding, ESPN, DC Comics, Marvel Comics, J-14, CosmoGIRL, Seventeen, Official Xbox and Playstation.
IF COLLEGE DOESN'T WORK OUT, THERE'S ALWAYS A CAREER IN BURRITO TASTING
Written in highly exaggerated "stoner" style, three print ads recruit teens for jobs as TV remote control operators, couch security guards and burrito tasters. With bold headlines and intentionally "over the top" copy, the ads offer bogus careers that require "no experience or a fancy college degree." "Can you handle the excitement?" says one ad. "Cheese curls, leprechauns and sitting on a cushion for a long, long time? Then maybe you have what it takes to become a couch security guard. Get the facts and start sitting now." "Channels don't change themselves," says the ad for the TV remote control operator. "College can take four long years…yuck! No talent needed." And according to the ad for burrito taster, "You can earn a jillion buckaroos! College degrees don't come with Buckaroos!" and "you can earn a free diploma and a year's supply of napkins. Recruits are encouraged to log on to fake web sites such as http://www.burritotastemaster.com where they immediately link to http://www.abovetheinfluence.com. "Hey, not trying to be your mom, but there aren't many jobs out there for potheads," reads the copy at the bottom of each ad.
An additional print campaign, "Animals," will also begin appearing in the same November publications. The ads feature animals dressed like teens engaging in life threatening behaviors. Sitting at a kitchen table, one slug has poured himself a lethal dose of salt and offers his friend the same. A second ad features two wasps. "What's the worst that could happen?" reads the copy in both ads followed by the Above the Influence logos and URL. The campaign's other components, including television, radio, online, and cinema ads will launch first quarter 2009.
To view the Occupations print, click below:
http://www.vocus.com/images/pr/mckinney_Couch%20Security%20Guard.jpg
http://www.vocus.com/images/pr/mckinney_Remote%20Control%20Operator.jpg
http://www.vocus.com/images/pr/mckinney_Burrito%20Taste%20Tester.jpg
About the Partnership for a Drug-Free America
The Partnership for a Drug-Free America is a nonprofit organization that unites parents, renowned scientists and communications professionals to help families raise healthy children. Best known for its research-based national public education programs, the Partnership motivates and equips parents to prevent their children from using drugs and alcohol, and to find help and treatment for family and friends in trouble. The Partnership thanks SAG/AFTRA, the advertising industry and our media partners for their ongoing generosity. Learn more at http://www.drugfree.org.
About McKinney
McKinney is never satisfied simply being a great advertising agency, but seeks to constantly be part of the revolution in how brands go to market. Our goal is to lead the convergence of offline and online (today, 35% of our revenue is interactive and 88% of our frontline staff are actively engaged in the digital space), to identify relevant applications for new technologies and to deliver the richest, most engaging and most fluid conversations between brands and their best prospects.
Founded in 1969, the Durham, NC-based agency's clients include Coldwell Banker, Gold's Gym, Major League Gaming, The NASDAQ Stock Market, Partnership for a Drug-Free America, ProShares, Qwest Communications, Sherwin-Williams, Travelocity, Virgin Mobile USA, Virgin Atlantic Airways, and Brown-Forman Corporation brands Bonterra, Chambord, Sonoma Cutrer, Southern Comfort and Tuaca.
Earlier this year, McKinney announced that its management had acquired 100% interest in the agency from Havas.
Most recently, Virgin Atlantic Airways and McKinney took top honors at the Interactive Advertising Bureau's MIXX Awards that celebrate the "mixx" of creativity and effectiveness in digital marketing. Virgin Atlantic's experiential launch, "Love from Above," won a Gold MIXX in the Mobile Platforms category for the company's first-ever WAP site.
For more information, visit our website at http://www.mckinney.com or visit the McKinney Newsroom by contacting Janet Northen at janet.northen@mckinney.com.
Contact Information:
Janet Northen
Partner & EVP, Director of Agency Communications
Phone: 919.313.4062
Email: janet.northen @ mckinney.com
# # #