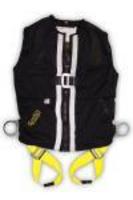 Mc Farland, WI (Vocus) October 23, 2008
SnugHarness.com the premier website for Fall Protection, Rescue & Retrieval equipment answered the challenge with a custom modification to the Construction Safety Harness for Miners. It solves the need to carry life saving tools while wearing a comfortable harness all day.
Working with the requests of working miners, Snugharness.com collaborated with the Guardian Fall equipment company to manufacture a harness and belt system specifically for those miners looking to solve that issue.
The safety of miners working below the surface is always a major concern to mining companies. Safety belts and lines standard are not confined only to high places. Safety Harnesses should be worn where there is a danger of falling inside a mine or jobsite.
The Custom Mining Harness enables the individual miner to attach needed tools and lights. Patented features include:
1) Black mesh is comfortable and breathable washable material
2) Tux style with harness built in to create a no-tangle body wear system
3) Leg straps zip into the back of the harness for easy storage
4) Dorsal and Side positioning D-rings are standard for easy use.
5) Impact Indicator tells the user if has been in a fall situation.
6) Durable Zipper makes it easy to secure harness quickly.
7) Notched pass-through chest and leg buckles fasten without twisting
8) 3" Padded Belt with Tongue Buckle Adjustment attached to harness
9) 1" Strap On Belt for Attaching Light Battery and accessories
10) Silver Reflective strips down the front for Increased Visibility
All the above features help the workers be comfortable all day while wearing safety harnesses.
SnugHarness.com takes the time to group all the hard-to-find fall equipment safety products in one place. You can find the best tools, anchors, harnesses, and protective gear to make your life on the roof or in a mine a whole lot safer….
Located in the heart of Wisconsin…. where a good days work is valued, the SnugHarness.com staff of experts never fall from the task. The staff delivers straight talk on what works best for you and then ships it fast. They want to keep you snug and safe…
If you'd like more information about this topic, or to schedule and interview with John Charles Steinmuller please contact us at SnugHarness.com 608-838-3300 a Division of Safety Plus Products Inc, 4123 Terminal Drive Suite 210, McFarland, WI 53558
###