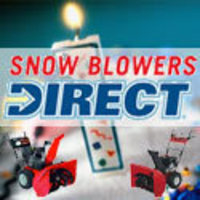 When snow storms are coming, people don't have to fight through slushy parking lots anymore
Bolingbrook, IL (PRWEB) October 23, 2008
SnowBlowersDirect.com - an online superstore specializing in snow blowers -- has extensively expanded its snow blower accessory line.
The e-commerce site - which is also celebrating its one year anniversary - is now offering hard-to-find accessories and parts, including shear pins, belts, maintenance kits and snow cabs.
"We've made great strides this past year improving our site. SnowBlowersDirect.com is the one stop shop for everything you need to get through the winter," said Jon Hoch, founder and CEO of Power Equipment Direct, the parent company of SnowBlowersDirect.com.
In addition, SnowBlowersDirect.com also added an assortment of articles to make buying a snow blower online easier.
SnowBlowersDirect.com provides a wide selection of detailed product recommendations and reviews on electric, single-stage and two-stage snow blowers.
"When snow storms are coming, people don't have to fight through slushy parking lots anymore," said Hoch. "Now, you can stay home, where it's warm and pick out the perfect snowblower online."
Power Equipment Direct operates five niche online superstores. In addition to SnowBlowersDirect.com, the Bolingbrook, IL-based company operates AirCompressorsDirect.com, ElectricGeneratorsDirect.com, PressureWashersDirect.com and MowersDirect.com
###