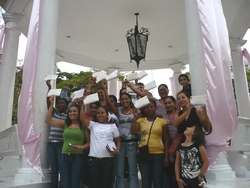 We hope to be a model for the rest of Panama
Casco Antiguo, Panama (PRWEB) October 28, 2008
A year ago, Julia Sánchez was living on $5 per day, juggling to feed and educate her 4 children. But when she registered at CAPTA, a program that provides local women of Casco Antiguo with hotel training, her life changed. She got a steady job in a hotel in town and today, a year later, from surviving and feeding the kids her goals have changed to learning English, studying a full career and moving into a better home.
CAPTA (Spanish for Capacitación para el Trabajo) is one of the many community programs run by Fundación Calicanto, a local NGO determined to improve the way of life of the people in the neighborhood. It has already trained 60 women and growing. Heriberto Trejos, the foundation's Director, summarizes the program's main achievement: "The first step is to break the negative image women have of themselves. These women have been marginalized all their lives. The program wakes them up, makes them realize that they can get a job and grow as social human beings."
Samantha Sagel, manager of Canal House, the hotel that hired Julia and a strong supporter of the program agrees. "The gradual change in our employees has been outstanding. I went from having a team that only expected instructions and had a bad attitude to a charming one that works with confidence, acts and thinks ahead." The hotel is fully staffed with CAPTA women.
As Casco Antiguo develops into Panama City's most genuine tourism destination, there is a true concern regarding gentrification, poverty, lack of education and a paternalistic culture inherited from the military days where food was given away in exchange for votes. But voices of hope seem to be everywhere.
"Our experience has taught us that the financial and emotional stability they receive through these opportunities extends to their families and communities, setting the foundations for sustainable development," says Carlos Vega, committee coordinator within the program.
"We hope to be a model for the rest of Panama," says Patrizia Pinzon, manager of Arco Properties, a brokerage specialized in the historic district and a director at the Foundation. "The beauty of Casco Viejo is that everything is mixed: architecturally, culturally and economically. Some need more help than others, but together we are building a community where everybody benefits. As I see it, this isn't 'charity' as in 'giving stuff away'. This is what true capitalism was meant to be, capitalism meets common sense."
###