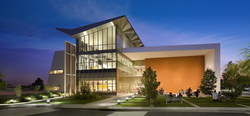 Since students at the ACC undergo an intense, nine month boot camp-like educational experience, it was important to provide an environment that would produce academic pride. Since the learning process isn't limited to the classroom, the design needed to serve intellectual, social and personal needs
Ontario, CA (Vocus) October 23, 2008 -
It's a legitimate and loaded question. According to the U.S. Department of Labor, the number of people in older age groups, with much greater than average health care needs, will grow faster than the total population between 2006 and 2016.
As businesses scramble to provide suitable solutions, a school in Ontario has taken an atypical approach.
The American Career College (ACC) campus in Ontario is not your standard vocational school; the new multi-million dollar facility is a stunning architectural piece literally steps away from the freeway. To meet the nation's population growth and produce a compassionate army of qualified medical professionals, the school has leveraged smart design to its advantage and enrollment has multiplied.
"Design matters," exclaims ACC President and CEO David Pyle. "In Ontario, student satisfaction has surged along with the number of qualified instructors applying to teach there. Maintenance expenses have decreased and a sense of permanence has been created with a high tech facility, purpose built for our curriculum."
In a community dealing with the effects of "brain drain," a term coined by Ontario Economic Development Director, Mary Jane Olhasso, permanence is paramount.
The Approach: Commission a student-centric, design forward building. Use inexpensive materials such as tilt-up concrete panels, in a fresh and creative manner. Use freeway-close architecture as a billboard for marketing and branding. Challenge archetypal vocation school models with creative solutions and innovation. Provide quality educational experiences to produce the highest amount of qualified graduates, ready to enter the medical field.
The Reason: According to the U.S. Department of Labor Bureau of Labor Statistics, Health care will generate three million new wage and salary jobs between 2006 and 2016, more than any other industry. Seven of the twenty fastest growing occupations are health care related. The median age of registered nurses is increasing, and not enough younger workers are replacing them. As a result, employers in some parts of the country are reporting difficulties in attracting and retaining nurses.
The Students: The health care industry provides many job opportunities for people without specialized training beyond high school. Many of the students at the ACC fit this criterion.
The Design: Students that by and large do not attend college were given a bright and airy campus from the Higher Education design experts at California-based LPA Inc. Tilt-up concrete panels used in an imaginative manner give the building its affordable, yet classic exterior skin. Inside, designers created social space that offers comfortable, contemporary furniture, motivating graphics and soft, artificial turf.
Durable materials, finishes and fixtures stand up to constant student traffic. Earth-colored terra cotta tiles, made with recycled content, infuse an Ivy League sophistication into the entrance. Scores of glass walls provide an atmosphere of transparency so that students feel connected to their teachers, classmates and curriculum at all times. Sustainable features abound.
"Since students at the ACC undergo an intense, nine month boot camp-like educational experience, it was important to provide an environment that would produce academic pride. Since the learning process isn't limited to the classroom, the design needed to serve intellectual, social and personal needs," said LPA Design Principal, Glenn Carels. "David Pyle is incredibly passionate about this mission and he's not doing it for his ego, he's bold. He's doing it for the students and I love that. He's innovative."
As the Ontario campus nears capacity, plans are underway for a twin campus on an adjoining lot along the 10 Freeway. If word of mouth referrals have been consistently pouring in, just imagine the effect of two mirroring campuses. Our guess? Ample buzz from design that matters, commitment to community, transparency, and higher education for a second chance at a fulfilling life.
American Career College Ontario Campus address:
3130 East Sedona Court
Ontario, CA 91764
Click here for the Online Photo Gallery.
For more information, visit http://www.LPAinc.com or http://www.americancareer.com.
For interview opportunities contact:
Rochelle Veturis
LPA, Inc.
5161 California Ave., Suite 100
Irvine, CA 92617
(949) 701-4148
rveturis @ LPAinc.com
Video production by Greg Magnus at gmagnus @ live.com.
###